The 8 marketing metrics no marketer should be without
How well is your marketing working? If you don't have an immediate, clear answer to that question you need to get better marketing metrics. It's a cliché that what gets measured gets managed, but for a reason.
If you don't know something isn't working well, how can you improve it? If you can't pinpoint the specific stage in the revenue funnel where you're losing leads, how do you know where to focus your attention? If you don't know your most effective channel how can you make informed investment decisions?
And with Marketers increasingly under pressure to justify ROI and demonstrate their contribution to the business, it is vital that marketing leaders are able to prove their worth with hard facts and figures.
Metrics matter, and our ability to measure our marketing work has grown exponentially in recent years. Not so long ago marketers waited weeks to discover whether a campaign was working, whether investment in a new channel had paid off, or whether a new hire was delivering. Now, digital platforms give us real-time performance metrics at the touch of a button.
The flipside of this is that there is now so much we can measure, it can be confusing to figure out which metrics to focus on, which ones are important in order to get the right insight. Here are the eight metrics which no marketer should be without: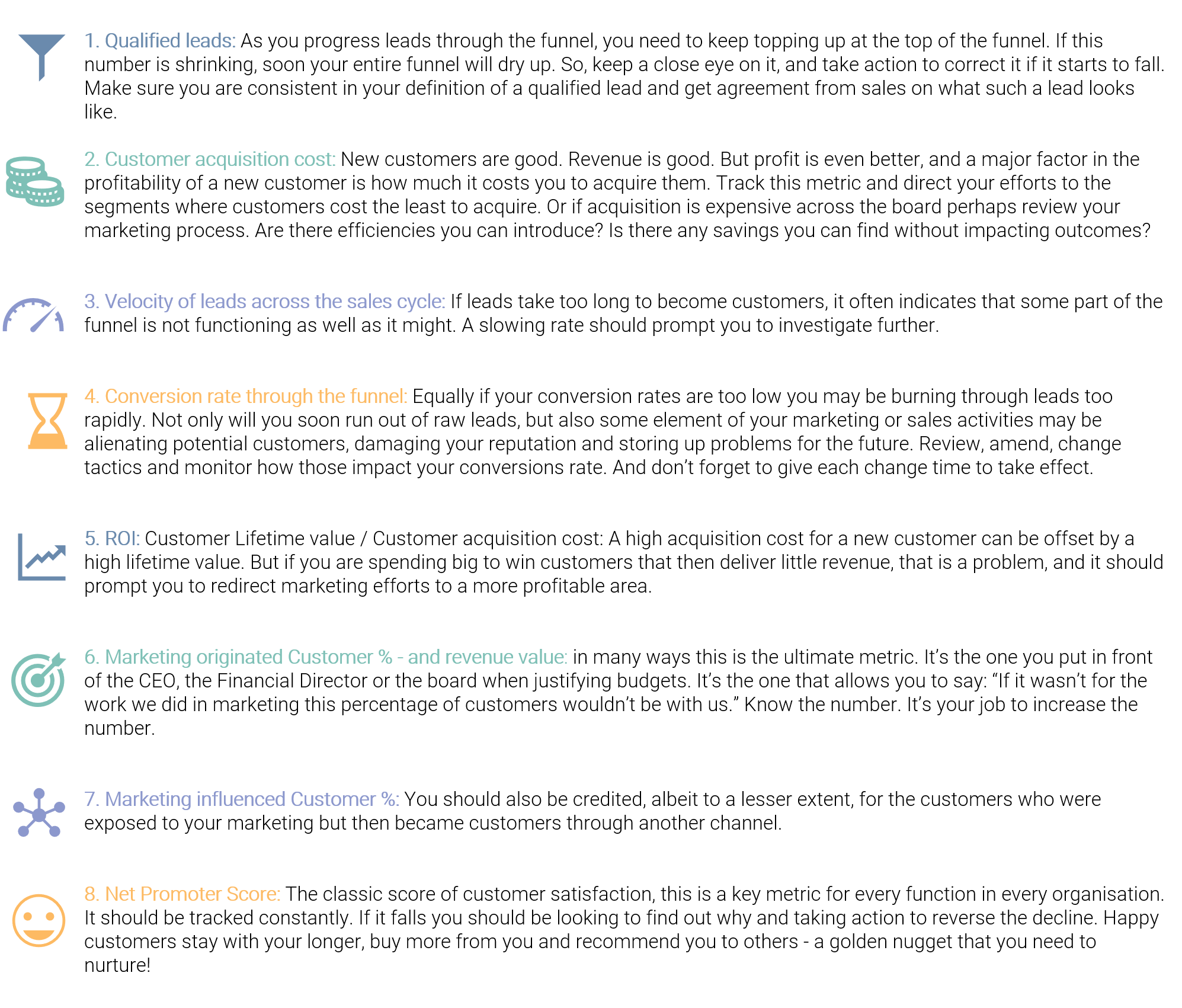 For most marketers, the most efficient tool for tracking those metrics is a combined CRM and marketing automation platform. It provides them with a clear view of those eight metrics, amongst much else, and allows them to provide support where it's needed, target investments for optimum results, and make the right decisions for their organisations. Also, it allows them to know the answer to the question of how well their marketing is going and what their contribution is to the business – earning them a seat at the revenue table!