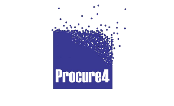 About Procure4
Established in 2001 with operations in Europe and North America, Procure4 has become one of the fastest growing specialists in supply chain management. With more than 30 employees, Procure4 helps organisations to deliver cost savings and enhance efficiency across a wide range of leading private and public sector organisations. 
Prior to implementing Workbooks CRM, Procure4 had been using a combination of databases, spreadsheets, notes and emails, to manage their contacts and sales leads. Specific problems included the inability to generate accurate reports, follow up leads efficiently and share information effectively across different national and international office locations. With so many different pools of information, it was not only keeping track of all their data that proved problematic, but the time it took to keep every database up to date.
Too much information to retain
With a growing demand for monthly reporting and an increasing amount of data to retain, Procure4 recognised that they needed a more structured approach to contact management". We needed to keep a more comprehensive record of who we had contacted, when and how. We needed a solution that would allow us to manage our contacts, leads and opportunities effectively, would be quick to implement and easy to use" explained Clare Chrishop, Marketing Manager.
Having shortlisted some of the larger players in the market, it was the "friendly nature" of the Workbooks team combined with the intuitive solution that really attracted Procure4. Arthur Freudiger, Business Analyst, went on to explain, "We came to realise that although there are numerous CRM vendors and partners available offering broadly similar products and services, being able to deal with a UK vendor with whom we could build a close partnership was a really unique selling point for us".
An easy deployment
The implementation of Workbooks CRM was straight forward, and after just one day of training, the Procure4 team were up and running. Clare Chrishop was pleased with how the deployment of Workbooks went, commenting "The training and ongoing support we have received from Workbooks has been first class, our trainer in particular was brilliant. She was very articulate and perceptive to the needs of Procure4 and explained things in such a way that was easy for everyone to understand, even those of us that wouldn't necessarily class ourselves as 'tech-savvy'."
Procure4 are now successfully using Workbooks CRM as a means to manage their contacts, track sales leads and opportunities and to develop their marketing campaigns. They are additionally using it as a human resources and recruitment tool. Arthur Freudiger comments, "The custom fields functionality within Workbooks is so easy to use and has given us the flexibility to capture information and use the system in any way we want".
The benefits delivered
Workbooks CRM has delivered benefits across the business of Procure4, providing tools to plan marketing activities more effectively, as well as giving greater visibility and control of the 'New Business' pipeline. "Having consistent processes and definitions of sales stages across the UK and the US has proven particularly useful for our monthly board meetings" explains Arthur Freudiger. "Tracking key business information in Workbooks means our management team has the most up to date and accurate information which enables them to make the right decisions at the right time."
An integral part of day-to-day business
The team at Procure4 has been so impressed with the progress made since implementing Workbooks, they have recently taken on several extra licenses, in addition to upgrading to include the Outlook Connector and Contract Management modules. These upgrades have given Procure4 greater visibility and flexibility in the way they work, helping to further streamline their business processes. Sue Hope, New Business Director concluded "Workbooks has become an integral part of our day to day business and a really great investment. I would recommend Workbooks to anyone".