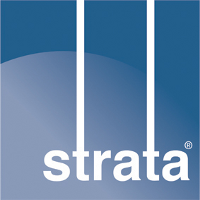 Background
Strata Tiles started life 10 years ago as a small team of stone and tile enthusiasts with the aim of fulfilling any architectural tiling project, whether it's a small customer with a suburban home, or a corporate customer with a large office building. Now, the company is one of the UK's leading suppliers of natural stone, porcelain, ceramics and mosaics, having grown from a team of three directors to a multi-departmental company.
What makes the company unique is the level of customer service that they provide with regards to technical advice and seeking to provide exactly what the customer is looking for. They are willing to take time to investigate all possible options and products on behalf of customers to ensure that the desired end result is achieved.
Products, suppliers, organisations and people
The main focus for Strata Tiles is architectural sales. The sales team work closely with architects to realise their vision for the projects through the use of tile colours and textures. This process involves numerous products, site visits, people, organisations and sales staff.
Having grown substantially over the past 10 years, the company needed a CRM system that could keep track of all these different silos of data and give them a view of the entire sales process from start to finish.
Greg Putt, General Manager at Strata Tiles explained, "When I first joined the company, we were using a mostly paper-based system and even when I moved this to a system of spreadsheets, it was challenging to keep track of it all."
Needed more than just your usual CRM
"We tried to implement Salesforce," says Greg, "However, it wasn't a good fit for us. The system is very rigid and it was difficult to adapt it to the way we wanted to work. A key priority for us was that there had to be a product database. There is no product database in Salesforce and they were only able to provide it at a very high cost, so we decided to look for an alternative CRM system that could meet this requirement at a reasonable price."
"We trialled Workbooks and one of the main deciding factors was the ease with which you can manage a product database. Our product library is vast, and includes things such as the weight, packing and availability. Workbooks can record all of this in the product records." says Greg, "All the other CRMs we trialled were good at keeping track of people and organisations but not products."
One consistent view of customer communications
Since implementing Workbooks, Strata Tiles benefits from a single, joined-up system through which they can manage and monitor all of their communications with people, organisations, opportunities and factories.
"The sales and quotations teams now have a complete view of our projects and customer communications," explained Greg, "If someone is off sick, we can easily see the progress of the projects that they are working on, what has been communicated to the customer and what is still to be done. Anyone taking over the project is completely prepared."
During every sales process at Strata Tiles, the team are frequently creating quotations for projects and addressing any customer questions regarding the quote.
"Once the opportunity is set up, the quotations process is much slicker in Workbooks than it was previously." says Greg, "Customers can now call us, give a reference number for their quote and no matter who they are speaking to from our quotations team, we can find the relevant quote in Workbooks and answer any questions that they may have. Workbooks has removed the margin for error and resolved any duplication issues that we may have experienced in the past. This is invaluable to us."