The reinvigorated web browser
April 08,2010 by jkay • Leave a Comment
Filed under:
At Workbooks we are very interested in the evolution of the web browser - it has only recently become possible to deliver a compelling rich User Interface like the Workbooks Desktop without requiring all manner of plugins. The good news is that the evolution is accelerating and with it the browser's speed and capability.
Eighteen months ago Google launched Chrome which was dramatically faster than any other browser available at the time. A browser performance and functionality war has been underway since then. In those eighteen months, and despite some hiccups, Chrome has become the world's third most popular browser - after Microsoft's Internet Explorer and Mozilla's Firefox and ahead of Apple's Safari and Opera's eponymous browser. It's well documented that Internet Explorer's market share has been declining at an increasing pace since its peak in 2004 - that decline accelerating further since Google's entrance into the market and likely further still with the advent of the European Union's "browser ballot" screen. Google have also announced Google Chrome Frame, a plugin to Internet Explorer, which brings Chrome's features and performance to Microsoft's browsers for websites that are modified to use it. Finally there is now a proliferation of new ways of accessing the Internet using things other than PCs where there is nothing Microsoft in sight: from PS3s, iPhones and iPads for example.
Internet Explorer was first released nearly fifteen years ago; the other week Microsoft unveiled a "Platform Preview" of the next version, dubbed Internet Explorer 9. It's not even "alpha" software - we have no idea when it will be ready - and yet it has excited a lot of commentary. My view is that it signals a radical departure for Microsoft and they should be applauded for it.
As is Microsoft's way they are still a little picky about which open standards they embrace but IE9 includes much that other browsers are also adopting so eventually if you choose a modern browser from any mainstream vendor it will be capable of rendering video, storing data to work with while offline, and showing beautiful charts which scale smoothly as you zoom your browser - all without requiring any external software ("plugins"). As an added benefit it will get easier for developers to write web sites which work consistently across all major browsers without major compromise through a "lowest common denominator" approach: the lowest common denominator is now getting a lot higher.
IE9 is notable also for the speed it promises. It has become very fashionable - and easy - to criticise the performance of Microsoft's browsers. It's refreshing that with IE9 Microsoft has ditched its denial of there being a performance issue with IE and decided to address the issue: now it's going to be "crazy fast".
Depending on the benchmark IE9 shows upwards of a sixfold improvement over IE8 which itself is twice as fast as IE7. Although it's unlikely IE9 will take the speed crown for most tasks from current leaders Opera and Chrome or overtake Safari it does at least mean we will be able to stop focusing quite so much on IE performance as an issue.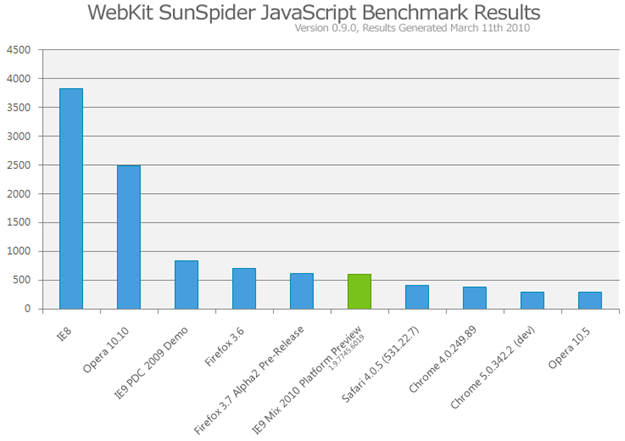 Prior to IE9's announcement it was looking increasingly likely that Microsoft's market share decline would only increase however now it's clear that Microsoft have decided not to abdicate from the browser market; Chrome Frame will likely be marginalised to be a tool for those IE users who are unable or unwilling to migrate to the latest version of IE.
But more significant than any of the above is that I think IE9 is going to be fundamentally different from previous versions of IE: it delivers most of what it does using open standards. It's well documented that many organisations are still stuck on IE6 - even though IE6 has had its funeral - because that browser included a raft of proprietary extensions that did not make it into IE7 or any subsequent browser. Open standards are easier for developers and allow users to avoid lockin.
This is all great news for the user: whichever browser you use it is getting faster, more stable and more functional.
Made in the UK
March 18,2010 by jkay • Leave a Comment
Filed under:
One of the decisions we took first at Workbooks was to build our own software, and to do so here in the UK.
We'd looked around at a number of open source software packages on which we could build a service, some with licences which we could live with but none met enough of our requirements: it had to support multiple customers efficiently, support a powerful security model, be easy to use and allow us to deliver a service that wasn't just another CRM solution. Workbooks was to deliver a complete 'Prospect to Cash' solution and it became obvious the only route to this was to create our own.
Having decided that we also got to choose to deliver a few more goodies, such as a completely flexible system to generate reports, and a Windows-like user interface (implemented using a Javascript framework running in all widely-deployed modern web browsers without plugins or compromise). We're particularly proud of the user interface: comparing a traditional Web UI with the Workbooks Desktop is a bit like comparing DOS with Windows (if you're old enough, can you remember when you could only see one form at a time?).
The next decision was that we'd build it here in the UK. This is deeply unfashionable (schoolchildren aren't even offered the option to learn basic programming skills in most UK schools) and there is a widespread view that pretty soon all software development will be offshore. But we wanted the flexibility to react quickly as our understanding of the requirements solidified and to build a capability to respond quickly to customer requirements in the future. Plus, it gave us the opportunity to work with some very skilled developers with whom we'd built great things in the past.
Thankfully the UK government's R&D tax credit scheme (just about to reach its tenth birthday) made things a little less daunting than otherwise. And although it still costs us more than our offshored competitors to produce software we believe it is worth it for the flexibility and responsiveness it delivers to us.
Another unfashionable thing we did was to commit to a UK-based customer support function: one of the things we have set out to do is to differentiate ourselves from our competitors through the quality of our support team.
So we're proud to report that Workbooks was born in the UK, continues to be built in the UK and is supported by our completely UK-based team.