We think it's important that our users have visibility of what's going on at Workbooks, and we want to be transparent about the status of the service.
So, starting on Friday 5th November if you login to Workbooks via the Customer Login button on our website you'll be greeted with information about the running service alongside the Login box.
On the left: what's going on at Workbooks - our twitter feed - with updates about all aspects of the company, the software and the latest enhancements. On the bottom: links to our latest blog posts and feature requests.

And, below the login prompt: how the service is performing. When things are healthy there'll be a green tick here; if they aren't you'll see a red cross. Our goal is to deliver as close to 100% availability as we possibly can; the statistics presented when you "Click to see details" are measured independently by a third-party company, ippatrol.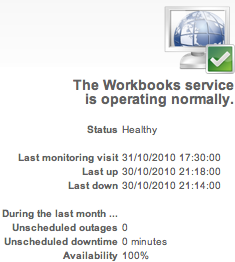 If you have any suggestions about information you'd like to see on this page, please let us know.
By the way, if you want to go directly to the login screen and bypass our new login page you can still go directly to https://secure.workbooks.com/ and bookmark that link.