Custom Fields can be created on most Record Types in Workbooks to enable you to store information on your Workbooks database that is relevant to your business. Navigate to Start > Configuration > Customisation > Record Types where you can see the list of Record Types that can currently be configured as shown below: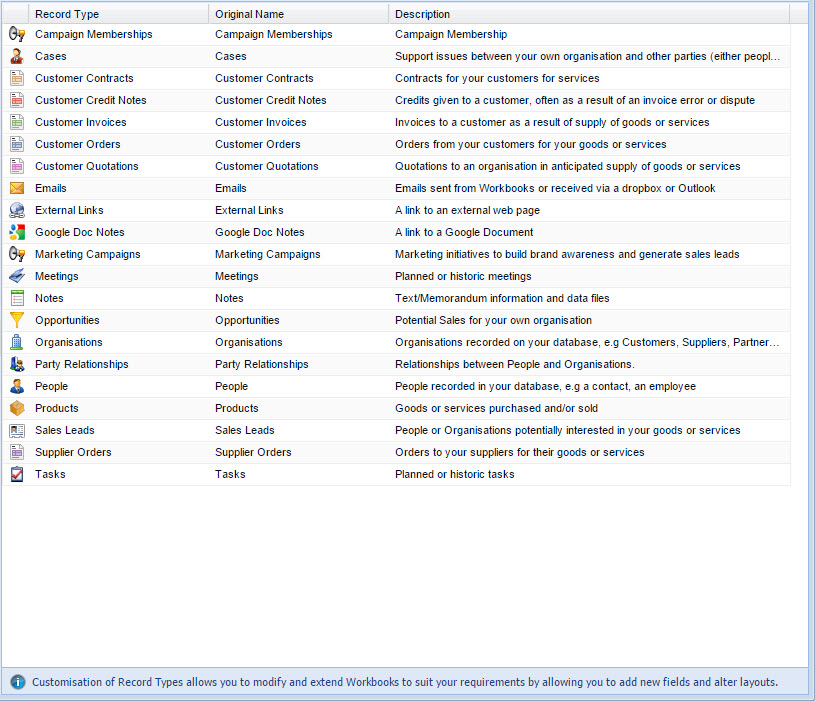 NOTE: It is possible to change the names of these Record Types, simply click on the relevant record type and change the name on the Main tab. For example, you may want to change People to 'Clients' or Campaigns to 'Events'. The original name will be stored in the 'Original Name' column as seen above
There are a number of standard Workbooks fields which are initially hidden from view. It's bad practice (and will probably cause problems later) if you create Custom Fields which have the same field label as either another custom field on the same record type or with the same field label as an existing standard Workbooks field. For this reason, we recommend checking if the field you need exists before creating a new one. To carry out this check, all fields, both standard and custom, are visible in the Fields tab. 
It is possible to change the field label of existing fields; simply select the relevant field from the fields tab and adjust the name. NOTE: Some standard fields cannot be renamed. This will be stated when you open the field, and the field label will be read-only.
Some fields may already exist but just not be visible on your form layout. To find these, go to the relevant form layout and scroll to the bottom of the Fields tab. There will be a a number of fields that are greyed out because they haven't been selected to show, simply select the relevant field and click 'Show' to add it to your form layout.
If the field doesn't already exist you can create your own custom field. To add a custom field to a specific record type, click Start > Configuration> Customisation > Record Types. Select the record type to which you want to add the field from the list on the right. Now open the Fields tab and click New Custom Field; if you're adding a Custom Field to a Line Item on a transaction record, you should open the Line Item Custom Fields tab. When clicking New Custom Field, Workbooks will present you with a list of the field types available for creation, click on the desired field type.

Listed below are the different types of data you can apply to a custom field.  There are some settings that are common to many of these fields, including:
Description: This field can store additional information about the Custom Field. This information could relate to how the Field is meant to be used or important internal notes, such as 'Do Not Delete'. It is important to note that if a Custom Field was created prior to this feature thiis Field will remain blank until updated. NOTE: The value in this field can be very useful when Customising Form Layouts.

Required: Ticking this box makes completion of the field mandatory at the database level. To force some Users but not others to enter a value, use Form Layouts rather than this setting;

Read only: Ticking this box makes the field read only (so can be useful for displaying important on-screen information). Use Form Layouts rather than this setting if you want some users to be able to change the value;

Show in list views: - Ticking this box determines whether or not this field is hidden or available to be switched on in grid views such as Landing Pages, Tabs and Line Items.

Show by default: Ticking this box forces the new field to be shown on all of your Form Layouts for that particular record type.

Searchable: Ticking this box means the value entered into the field can be found using Workbooks search functionality.

Indexed: Ticking this box can speed up reports and filtered views that use the customised field as a criteria.

Default value: If you want records to be populated with a default value, enter it here.

Max Characters: Simple text fields default to showing a maximum of 50 characters but you can amend this. The limit on maximum characters for text fields is 255.
Although it is possible to make a Custom Field required and/or read only at this point, best practice suggests in nearly all cases this is not a good idea as making Custom Fields required/read only at Form Layout level allows greater control of your data.
NOTE: If the maximum number of characters or the Indexed checkbox are changed for an existing custom field, the change will be performed in the background and a notification will pop up when it's done.
NOTE: The Custom Field will not be immediately available for use as the creation takes place in a scheduled task. The Custom Field will be visible in the Fields Tab but will have a status of 'Being Created'. When it has been created this status will change and a notification will pop up..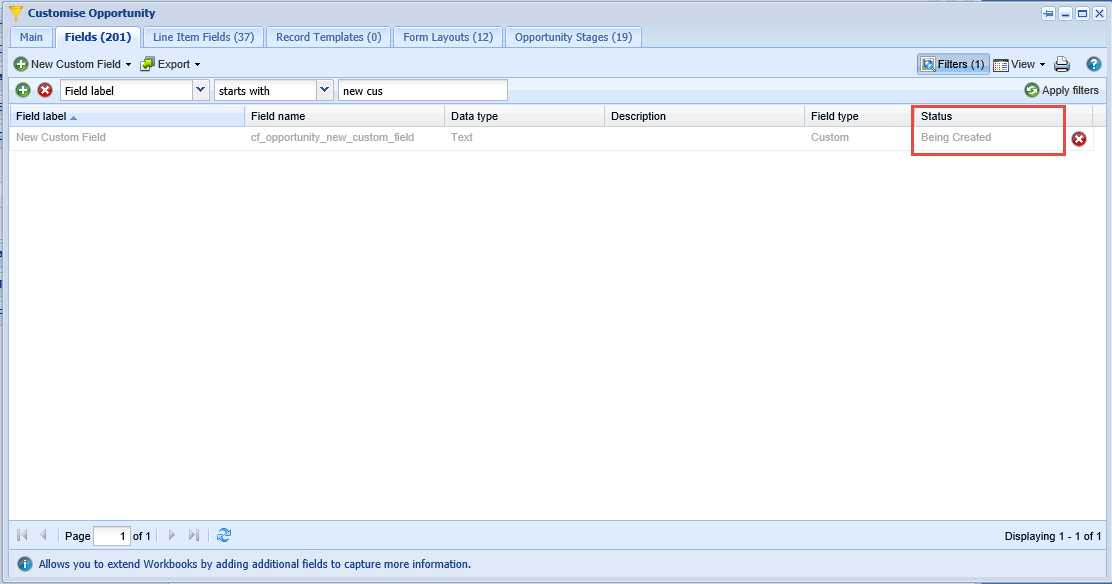 If you customise your database using Custom Form Layouts you have greater control and flexibility over the positioning and order of fields, as well as being able to override whether or not the field has a default value, is mandatory or is read only.
Checkbox
A box which can be ticked to indicate that a particular parameter is met or left empty if the parameter isn't met.
Currency
Choosing a data type of currency will generate some new dialogue boxes where you can specify which currency should be displayed and whether or not users can change the currency code. The currency options available are those for which an exchange rate has already been defined and added to the foreign currencies available for your Own Organisation.
Date
A date field (with the format dd/mm/yyyy).
Date & Time
A date/time field. Times are displayed using the 12-hour clock, e.g. 4:00 AM or 4:00 PM.
Decimal Number
Decimals are displayed to two decimal places (rounded up).
Dynamic Linked Item
A Dynamic Linked Item allows you to create a picklist compiled of values held elsewhere in Workbooks. The list of options in a Dynamic Linked Item's picklist is based on a report, so you can use the full power of reporting to select which values appear in the list. For example, you might want to create a field on an Opportunity record to show the primary contact for that Opportunity, which you can do using a Dynamic Linked Item field. Additionally, you can configure the field so that when you pick an option from the list other fields, such as Email, Phone Number and Address are automatically populated. When you've chosen a Linked Item from the picklist you can hyperlink to that record using the button next to the field. More information about creating a Dynamic Linked Item is available here.
Please Note: Dynamic Linked Items are not supported within the current mobile client. Consequently, DLI's that appear within the desktop UI will not appear when viewed using the mobile client.
Dynamic Picklist
A Dynamic Picklist is essentially the same as a Dynamic Linked Item. The only difference is that this picklist doesn't include a button that allows you to link to the linked record. More information about creating a Dynamic Linked Item/Dynamic Picklist is available here. 
There is a button next to this field that (if clicked) lets you send an email to the address in the field.
iFrame
Creating an iFrame custom field enables you to access information held in an external system via a Workbooks field. For example, you might want to create a field on an Organisation record that displays a Google map showing the location of the Organisation (based on the values entered in the postcode and country fields). You can control whether or not the iFrame appears on the main tab of the record or in a separate tab. You could, if you wanted, create several different iFrame tabs for links to different systems.
To create an iFrame for a Google map follow the steps below:
Start > Configuration > Customisation > Record Types. Select the record type of Organisations and open the Custom Fields tab > New Custom Field.
Make sure you select iFrame as the custom field type.
Give the field a name, e.g. Google Map.
Enter the following into the URL field:  https://maps.google.co.uk/maps?q=@main_location[postcode]@,@main_location[country]@&t=m&z=14&view=map&hl=en&ie=UTF8&iwloc=&num=1&output=embed
By default the checkbox next to Show Link Button is ticked, which means that in addition to displaying the Google map on the Organisation record, you'll also see a button you can click to open the map in a new window. If you don't want the ability to open the record in the new window simply remove the tick.
Alternatively, if you want the map to display in a new tab (which will have the same name as you have given the custom field), tick the checkbox next to Show as Tab.
Now when you open an Organisation record you'll either see a field that displays the Google map for that Organisation's location (provided that both the Postcode and Country fields are populated with valid values) or you'll see a new tab which displays the map.
Integer Number
A field to store a whole number. Alpha characters cannot be entered in number fields. This field can be made searchable.
Multi-line text
A field where you can enter multiple lines of text. This field can be made searchable. This field can hold up to 65,536 characters, although few users ever add this much data.
MultiSelect
Use this if you want to create a picklist where the user can select more than one option.
Percentage
Values here will be displayed with a % sign, you can also set the minimum and maximum values that can be entered in the field.
Phone Number
Similar to the button next to the email address field, there is a button next to the phone number which lets you directly call the number in the field if you've integrated Workbooks with a VOIP system such as Skype. This button also enables you to add a phone call Activity to the record automatically. Depending on your VOIP integration you may be able to record the call or take other actions. NOTE: Whilst Workbooks doesn't dictate the format for which phone numbers must be entered, your VOIP system might so we recommend you check the documentation for your system.
Picklist
This data type generates a picklist where only one option can be selected.
Rich Text 
Choosing this option will create a field where you can enter text, which can be formatted using the toolbar that appears above the field. This also provides the ability to enter the value as HTML. This field can be made searchable. This field can hold up to 65,536 characters, although few users ever add this much data.
Text
Use this option if you want to enter alphanumeric characters (up to a maximum of 255 with a default limit of 50). This field can be made searchable.
Time
Times are displayed using the 12-hour clock, eg 4:00 AM or 4:00 PM. 
URL
A URL field can be used to hold a URL address so that at the click of a button the user can access a specific web page. The simplest way to use it is to give the custom field a Field Label and leave the URL field blank. This allows the user to enter a URL of their choice and then link to that destination.
Alternatively, you can enter a URL that when combined with the value that a user enters in the field, generates a whole URL. In a similar way to an iFrame, this enables you to link to an external destination (relevant to the Workbooks record you have open) without the user having to enter the whole URL. To do this, include @value within the URL. This indicates the point in the URL where the value entered by the user (in the form field) will appear and thus generate the whole URL to which they can link.
For example, if you entered www.bbc.co.uk/@value@ in the URL field, a user could enter news or radio4, which would enable them to link straight to the BBC News or BBC Radio 4 site respectively.
If you include a URL custom field in a Landing Page view you can click on the value in the grid to launch the relevant site.
It is also possible to have a URL custom field on Line Items.
NOTE:  For URL links to work correctly, you should ensure that your browser is not blocking pop-ups. 
For information on how to create custom fields that appear on more than one record type (such as a value on a Lead that appears on a Person when the Lead is converted or on a Product that appears on a Line Item), see the instructions here. .
NOTE:  If you delete a custom field, all the data held in that field will disappear and cannot be retrieved.  If you think you might need the data later, simply hide the custom field rather than delete it. Standard Workbooks fields cannot be deleted, but can simply be hidden from view on the Form Layout.