Upgrading from a previous version
The Workbooks Outlook Connector allows the user to simply upgrade without having to uninstall previous versions first. To do this, simply run the installer as detailed below and if an installation of the Connector is detected you will be prompted with the following message:

If no installation is present, the installation will carry on as detailed below. Apart from the screenshot above, the installation process is the same as installing the Workbooks Outlook Connector on a new machine.
Step 1: Running the installer
Using the download link above, obtain a copy of the Workbooks Outlook Connector suitable for your environment. The version you require depends on whether your Outlook installation is 32 or 64 bit. Your internal IT team will be able to provide detail around which version you should download.
Depending on your browser settings, the download might be stored in a different location to this guide. For the purposes of this example, the browser has stored this in the "Downloads" Folder. Double-click on this to start the installation. Again, dependent on your Windows settings, you could be presented with a run or cancel dialog box, click run to begin the installation if required.
Step 2: The Installation Wizard
This is the first screen of the installation wizard that you will see. Simply click "Next" to continue.
The next screen will allow you to install the Workbooks Outlook Connector for all users that use a particular machine or only for the currently logged in user. If a machine is only used by one person, you should select the second option here then click "Next".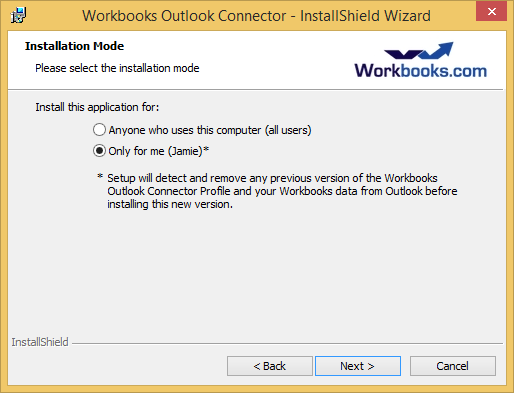 NOTE: Bear in mind that if this environment changes at any point then you will be required to uninstall and re-install the Connector to change to an installation where the software can be used for all users.
The next screen will then allow you to choose where you would like to install the Workbooks Outlook Connector. The default is shown below and unless you do not have permission on your machine to install software to this folder then you can simply leave this as the default. Click "Next" once you are happy with the installation location.
On the screenshot, shown below, you should simply click "Install". This will require system administration rights within Windows to continue. If your Windows account does not have such privileges then you will be asked to either provide a password for someone that does or you will need to login as them and restart the installation wizard.
If successful, you will see one final screen; click "Finish" to complete the installation.