It is possible to create and display a Primary Contact custom field on different record types constrained by Organisation Id. Once you select an Organisation or Customer, you will see your chosen Organisation's employees in Primary Contact picklist as shown in the screenshot below.

Why should I create this custom field?
Reduces the time that it takes to find the relevant Person record
Enables you to see key information about that Person without having to open the record
How do I create this field?
The steps below run through how to create a report from scratch and use it for a Dynamic Linked Item field called Primary Contact, which will be displayed on Opportunities.
Step 1: Create a report based on people
Navigate to Start > New > Report > Create a new blank report > People
Step 2: Add the columns that are relevant to you
On the Details tab add the columns that are the most relevant and contain important information. These fields can be used for field mappings in a dynamic linked item, which means that they can be displayed on Opportunity. You may find the following columns useful:
Assigned to Name
Email
Employer
Job Role
Job Title
Name
Person Id
Person Reference
Employer Id - to get this column, drill through Employer (main) > as shown below. This column will be used as a constraint in a dynamic linked item.

You should now have a report that looks like this: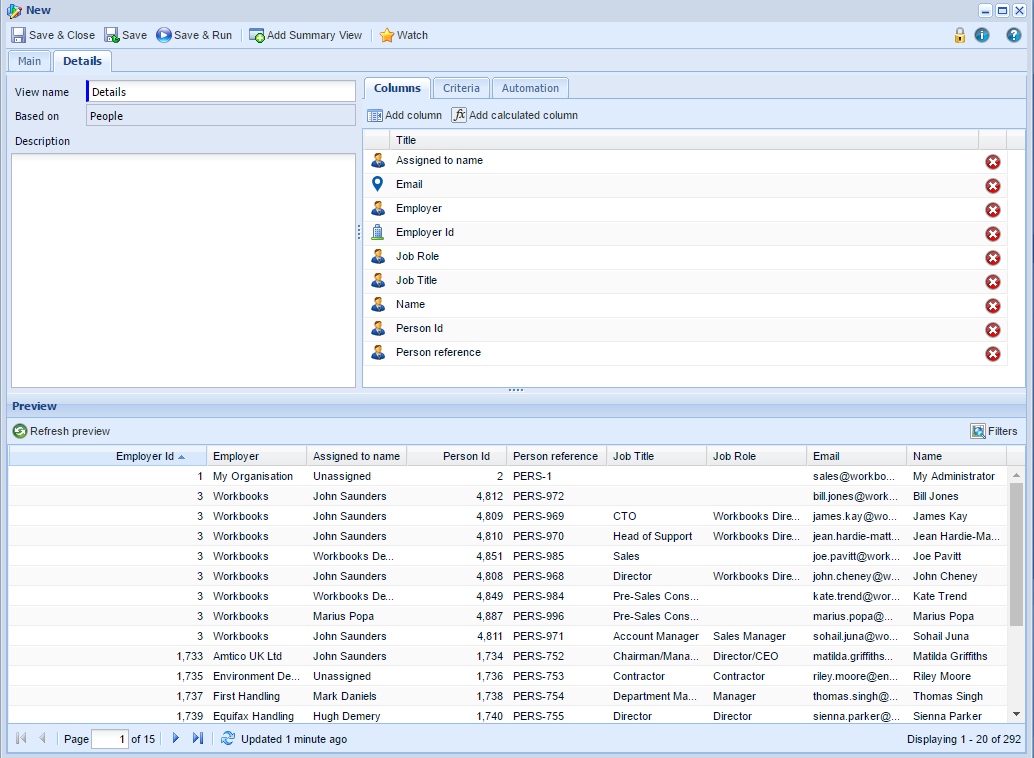 Step 3: Create a dynamic linked item field
Navigate to Configuration > Customisation > Record types > Opportunities > Fields tab.
Click New Custom field > Dynamic Linked Item.
Name the field appropriately, select the report that you've just created.
Select to display Name column.
Constrain this field by using Prospective Customer field in the form and Employer's Id in the report.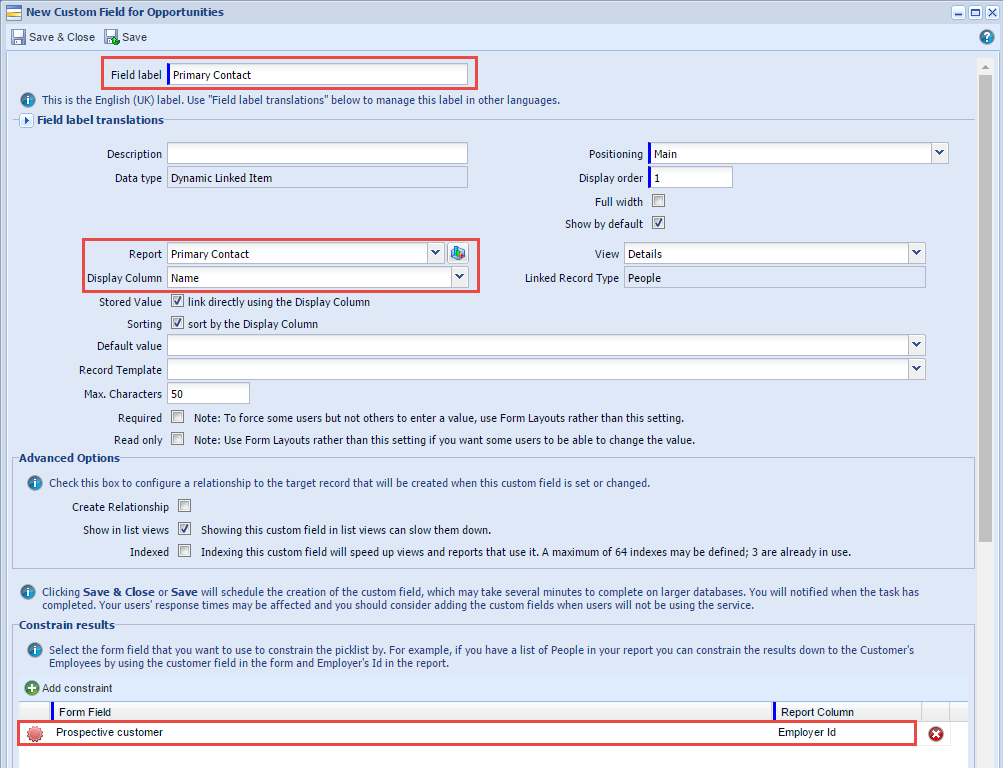 Step 4: Set up field mappings
If you want to pull through some useful information from Primary Contact record on Opportunity, you can set up field mappings as shown below. In order to be able to choose Email as a Form field, this field must currently be available on Opportunity record. If you don't have Email field in Opportunities in your database, you should create one.

If you select to map Email fields from Person to Opportunity records, once you've chosen Primary Contact on the Opportunity, email address will be automatically pulled through from Person record.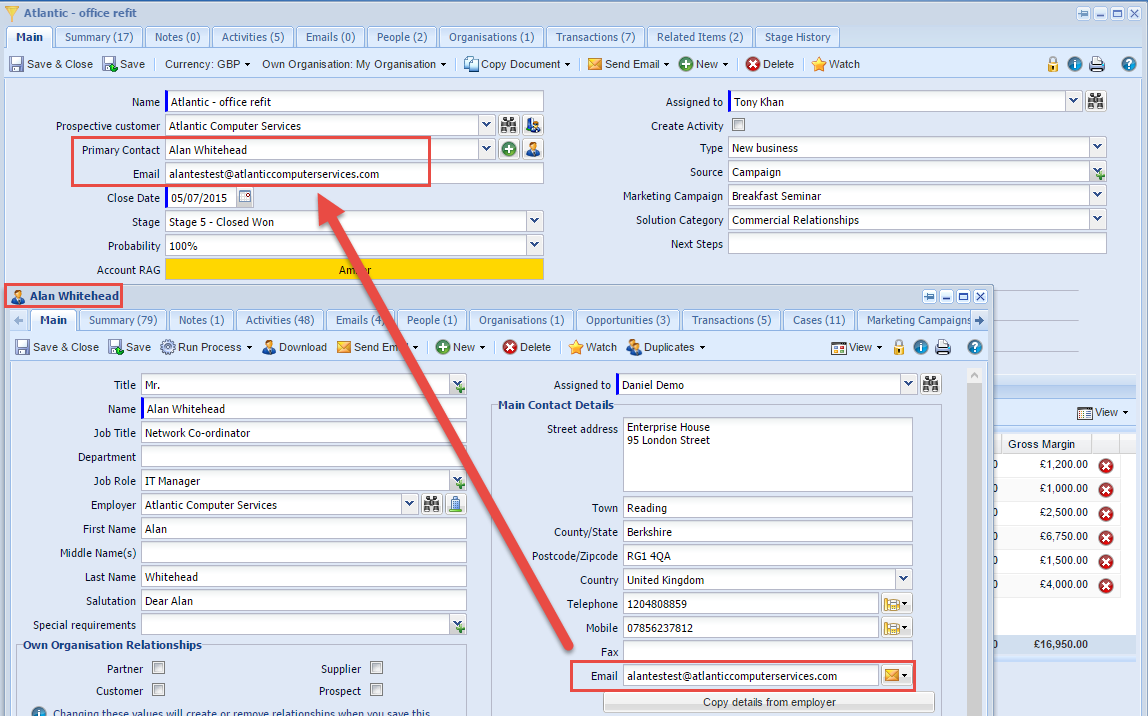 Step 5: Amend the position of the fields
You may want to amend your form layouts and choose where to position new fields. For example, it would be useful to have Primary Contact under Prospective Customer field. Open one of Opportunity form layouts and put Primary Contact in the same Parent section as Prospective Customer. Using Position field, you can choose the order of the columns within section as shown below.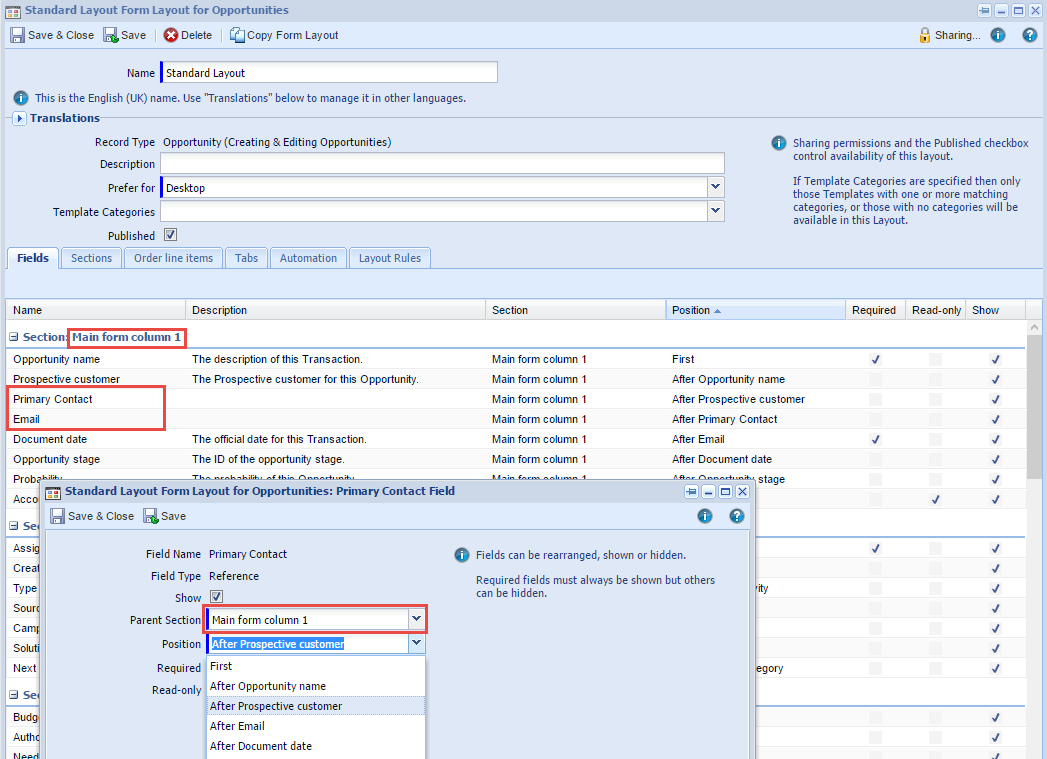 You now have a Primary Contact field that shows Prospective Customer's employees and pulls through their email address on Opportunity.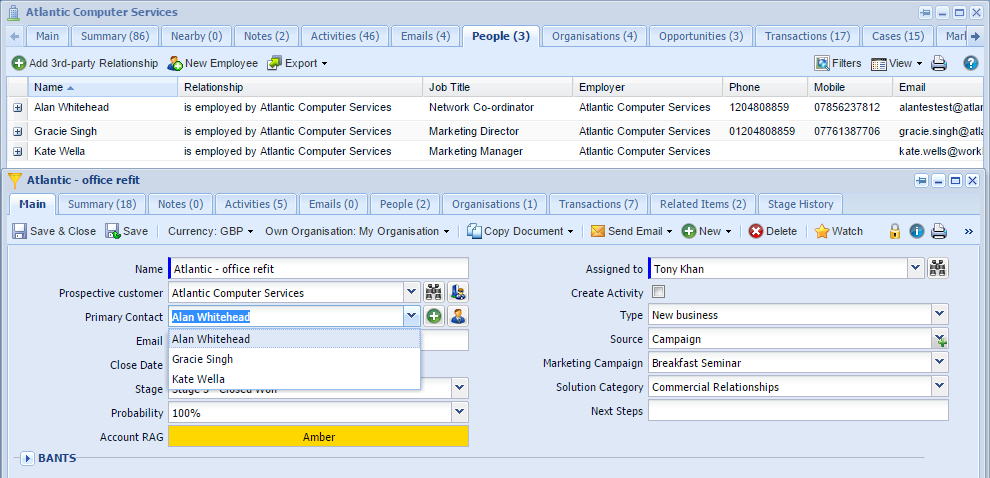 How else could I use this?
On Customer Invoices - display Finance and Alternate contacts.
On Customer Contracts - if a customer bought your services/products via partner, you can display Partner Primary Contact.
On Organisations - display Executive Sponsor, Head of Sales, Customer Services or Marketing.
Using Field mappings you can display useful information from the relevant person record: Job Title, Telephone number or LinkedIn profile URL.