Workbooks launches its Referral Partner Programme to enhance revenue sharing opportunities and extend to new markets.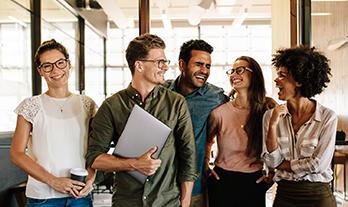 Reading, UK, May 1st - Workbooks, the leading British CRM vendor, today announced the launch of its Referral Partner Programme. The new programme will extend Workbooks' award-winning CRM and business applications to new markets and enhance revenue-sharing opportunities with both existing and new partners.
This new programme provides a flexible way to partner with Workbooks. Eligible partners can simply refer new business or work collaboratively to introduce the value of Workbooks' feature rich but affordable solutions to growing & medium size businesses and earn 30% of first year revenue. To learn more about becoming a Workbooks Referral Partner, businesses can view the Referral Programme page on the website here.
"We are excited to formally announce our Referral Partner Programme. The programme is an easy way for businesses to join the Workbooks partner ecosystem and help other organisations drive business success through the use of technology like CRM," said Leon Stevens, CRO at Workbooks. " We look forward to building long-lasting and mutually beneficial relationships."
About Workbooks
Workbooks delivers cloud-based CRM and Marketing Automation applications to the mid-market, at an affordable price. Workbooks extends beyond sales, marketing and customer support to also include order management and fulfilment, invoicing and supplier management, at a price which is typically 50-70% less than solutions such as Salesforce or Microsoft Dynamics.
Workbooks joins up the entire organisation around data and processes, promoting team-work and collaboration. It provides a single 360 view of customers and the information is accessible anytime, anywhere. Productivity is increased, operations are streamlined, insightful decisions are made and the business is better equipped to differentiate against the competition.

For more information, visit www.workbooks.com
Media Contact
Christelle Fraysse
CMO
Christelle.fraysse@workbooks.com