Calculate the ROI of CRM
A 7 step guide to calculating the ROI for your CRM implementation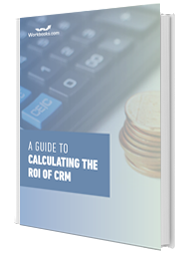 Paper length: 6 pages
Format: PDF
The potential business benefits of a CRM implementation are widely recognised. Yet some CRM projects still deliver disappointing returns or fail altogether.
One of the crucial elements of a successful CRM implementation is to gain, at an early stage, a clear understanding of the expected ROI.
Get this right at the outset and you will be able to share realistic expectations throughout your organisation. Scale your initial budget up or down and understand the likely impact.
From ten years of research we've identified seven steps anyone can follow to calculate the ROI of a CRM implementation. We've put these seven steps into our free Whitepaper - A Guide to Calculating the ROI of CRM.
Instantly download the whitepaper and discover the seven steps in detail by completing the form.