Sometimes after your Outlook Connector has run a synchronisation you'll see a red exclamation mark

on the Outlook Connector symbol, which indicates that the synchronisation has encountered some sort of problem, which requires your intervention. Typically these are called Issues, Conflicts or Duplicates and they are not always serious.
Issues
Steps to take when encountering synchronisation issues
Click on the issues individually to see if the error message gives any explanation as to what has caused the issue.
Clicking on the Outlook Connector symbol to the right of the issue will open the affected record in Outlook; this can sometimes give you an idea of what the problem is.
Conflicts
What causes Conflicts?
Conflicts (sometimes also called Collisions) occur when a record has been updated or changed in both Workbooks and in Outlook since the last synchronisation took place. For example, if there is an Outlook meeting that is synchronised with Workbooks and I change the Primary Contact in Outlook and change the location within Workbooks and then run a synchronisation, a conflict will be generated.
Conflicts do not prevent a synchronisation from completing but the specific affected record will not be updated until the Outlook Connector has been told which values are correct.
Resolving Conflicts
Open your Outlook Connector Control Panel (by right clicking on the Outlook Connector symbol and selecting Control Panel) and click on the 'Resolve Conflicts' symbol, which will show you a list of those records that have encountered a conflict. You can then choose whether the information in Workbooks overwrites the information in Outlook or vice versa.
Clicking on 'Workbooks overwrites' will apply the Workbooks values to all the listed records in Outlook. Conversely, clicking 'Workbooks Outlook Connector overwrites' will apply the Outlook values to the records in Workbooks. (Click to enlarge.)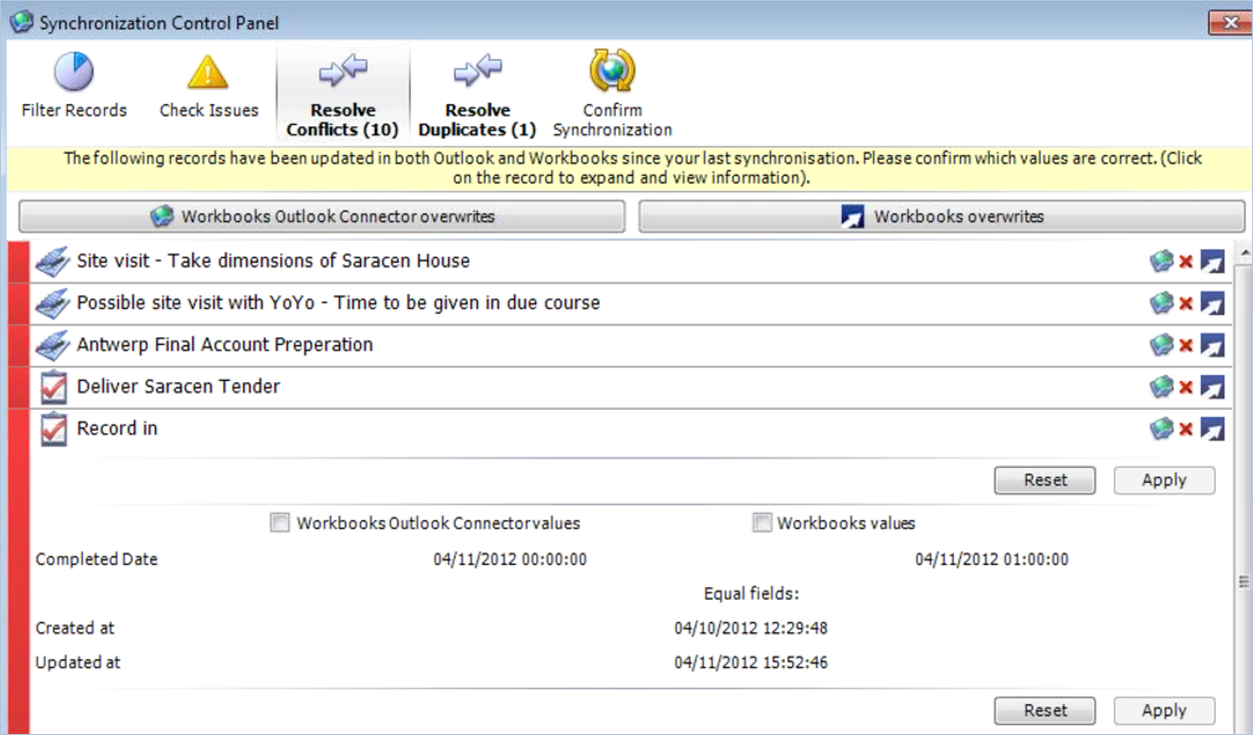 Duplicates
What are duplicates?
Duplicates are very similar to Conflicts in the Outlook Connector; the main difference is that Duplicates are detected on new records rather than changes to existing ones.
Duplicates do not prevent a synchronisation from completing, it will just stop the affected record from being updated until the Outlook Connector has been told which values are correct.
Resolving Duplicates
You can resolve Duplicates in the same way as you would resolve a Conflict (see above). Opening a Duplicate will show you the field values in Workbooks and the field values in Outlook; you simply have to determine what values overwrites.
Confirming Synchronisation
What does the Confirm Synchronization tab do?
If a synchronised record has been deleted from Outlook the Outlook Connector will attempt to delete this record from Workbooks as well. Before it goes ahead and deletes it, the Outlook Connector will ask you to confirm the deletion using the Confirm Synchronization button.
Workbooks Internal Error
What is a Workbooks Internal Error?
Workbooks Internal Errors can be caused by a number of factors. Common causes are:
Synchronising emails with particularly large attachments.
Synchronising badly formatted contact information (eg, not having a valid email address).
Corrupted Outlook records.
Internal errors will prevent synchronisations from completing so it's important to resolve them quickly.
Resolving Internal Errors
To resolve Internal Errors, our engineers need to analyse some log files that the Outlook Connector generates. which means that we will need remote access to your computer. If you see a message saying that you have internal errors, please contact support@workbooks.com so we can arrange a convenient time to collect these logs.
In some instances clients have successfully 'bypassed' Internal Errors by uninstalling and reinstalling the Outlook Connector. Whilst this might be a pragmatic approach to being able to use the Connector, it doesn't address the underlying cause of the original error, which may recur.