GatorForms are Web Capture Forms that allow your website visitors to submit information directly to you. These forms can either be embedded with full HTML or through an iFrame image placed on your site.
GatorForms are an excellent method to help identify unique visitors. Once a form is submitted a cookie is placed on the User's browser meaning that the next time they visit they are identifiable by their email address rather than their company IP address.
Additionally, GatorForm information also feeds back into Workbooks which can then be used to create or update information on the appropriate Person or Lead Record, more information on this can be found on the Field Mapping page.
To create a GatorMail web capture form you you will need to go to Tools > Web Capture and then Add Web Capture: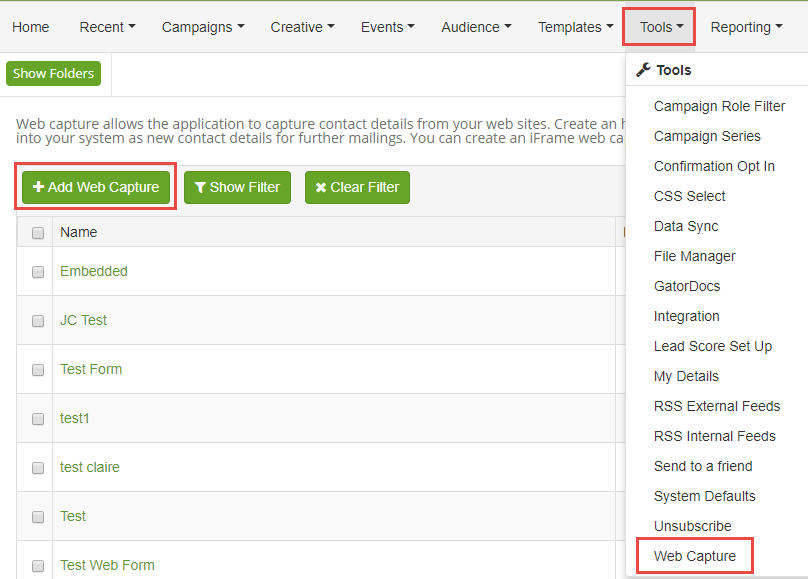 Once you have clicked on this, you will be presented with two options to choose from to embed the Web Form either as an Iframe or as embedded HTML. Where possible, we would recommend using the embedded code as it provides a more secure submission and is more compatible with https based domains.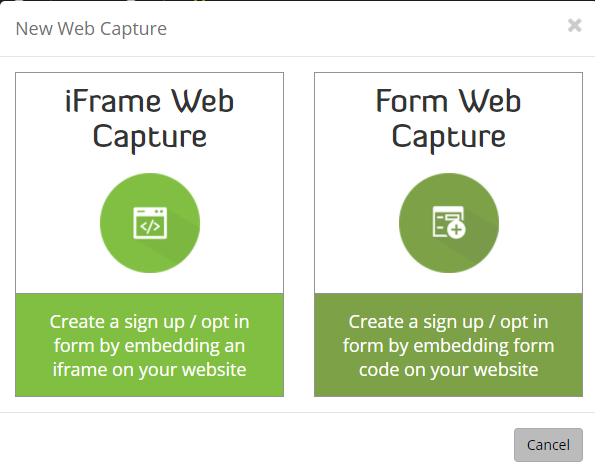 Once you have selected your Web Capture type and given it a name you will be able to start amending your Web Capture setup.
Setting up an Embedded Form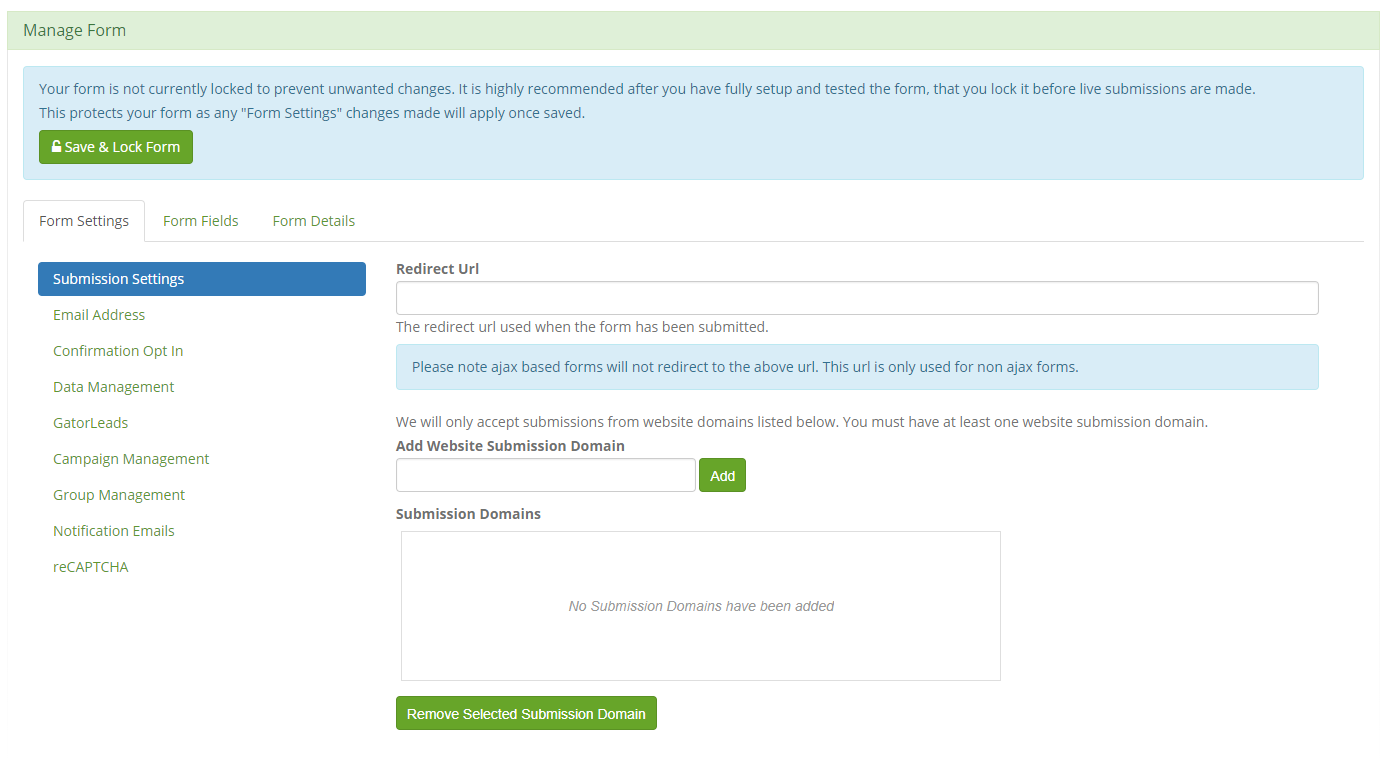 By default your Web Form will open on the Form Settings tab which provides you the following options:
Form Settings
Submission Settings
Redirect URL - Once your form has been submitted you will be able to redirect people to a new link where they can continue to browse your website.
Website Submission Domain - This needs to be one of your GatorMail domains. A http domain is setup by default, however, if you want to set up or use a different domain you will need to follow the Domain setup guide.
Email Address
The Email Address is always a required field when submitting a Web Form and this setting allows you to apply additional validation to the Email field.
Standard Email Address - Any valid Email address is allowed to be used to submit the form.
Business Email Address - Submissions from personal email address domains such as Gmail are prevented from submitting the form
AUS Government Email Addresses - Only submissions with a valid Australian Government email address (.gov.au) can submit the form.
Confirmation Opt In
Enable Confirmation Opt In
Once the form has been submitted your selected Confirmation Opt In will be sent in an email to the User allowing for a "double opt in" process on the form.
Add confirm statement
The confirmation Opt In Statement is inserted into the Web Form so they are able to confirm their opt in while submitting the form and do not need to do this via an email.
Data Management
Data Management allows you to control how you process the submission and can prevent the same contact from submitting a form multiple times.
GatorLeads
The redirect URL will contain GatorLeads tracking information so once the User continues browsing your site you are able to track all subsequent activities.
Campaign Management
This provides you with a picklist of available Campaigns. This list will contain your GatorMail Campaigns that are currently active. By selecting one of these the GatorMail Campaign will be sent to the User once they submit the form.
Group Management
This works in line with Campaign Management where once a User has submitted the form they can be added to a Group. If you have created a GatorMail Mailshot in Workbooks you will be able to find an "Integrated Group for: [GatorMail Campaign Name]"

Alternatively you can create a new Group for the form submissions to be moved into.
Notification Emails
Here you can setup and manage Notification Emails. This sends out an email informing you when the form has been submitted and allows you to set up a number of recipients to receive the notification.
reCAPTCHA
Add a CAPTCHA code to your forms which will mean that human verification will be required in order for a form to be submitted. If this is something you want to add to your forms please contact support@workbooks.com.
Form Fields

This tab provides you with a list of all available Fields that can be added to the Web Form. If you want these to populate Records in Workbooks see our Field Mappings page.
NOTE: Email will always be checked as it is mandatory.
Form Details
This is the Name and Description of the Web Form.
Once you have set up the Web Form as required, use the Save and Get Embedded Code as this will provide you with the HTML needed which you can then pass over to your Web Team who will need to implement it onto to your Website.