Custom GatorMail Domain Setup Guide
When working with GatorMail from Spotler you should use a domain which reflects your brand and is dedicated to your email marketing. We strongly advise against using your usual business domain in case your email marketing activity is marked as spam, leading to the blacklisting of your sending domain.
Spotler can set up a sending domain for you, which will be similar to @yourdomain.cgml2.com. Most customers, however, prefer to provide their own. This can be one you already own or you can purchase a new one. Setting up your own custom sending domain may require some configuration from your IT Department or website provider details of which are shown below.
Stage 1- Setup or Purchase a new Domain or Subdomain
You will need to setup/purchase a new domain which will be dedicated to your email marketing. This can either be a completely new domain or a subdomain from a domain that you already own.
NOTE: This means that you will not be able to use domains provided by other marketing tools such as DotMailer or MailChimp.
For example, a new domain would be something like: 'newcorp.com' whereas a subdomain would be similar to: 'newsubdomian.existingcorp.com'.
Stage 2 - Create Domain Keys for your Domain
Domain Keys are required to complete authentication on your domain.
Navigate to http://www.port25.com/support/dkim-wizard

Generate a private and public key pair by filling in the:
Domain name: e.g. 'newcorp.com' or 'newsubdomain.existingcorp.com'
Domain Key Selector: 'key1' as the Domain Key selector.
Select the relevant 'Key size in bits', which provides a level of encryption for your domain key. The larger the key size in bits the greater the level of encryption is.
NOTE: Some domain providers may not support 2048 bit encrypted keys so if you are unsure use 1024 bit keys.
Click 'Create Keys'. Your keys will be shown further down on that page.
Copy the text from '-----BEGIN PUBLIC KEY------' to '------END RSA PRIVATE KEY------' into a text file and save that as [DomainName]_keys.txt.
It is extremely important that the keys you copy are in the same format as the port25 website (in a block) otherwise the authentication will fail. Please do not use notepad++ as this does not comply with Spotler's mailserver's authentication system.

Further down the page you will find the 'Selector Record' information: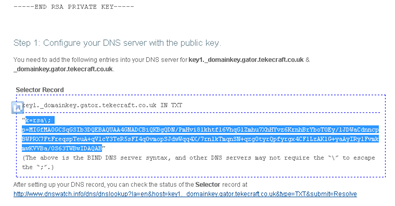 From the second box copy everything between the quote marks (highlighted above).
Save the copied text into a new text file and keep this as you will need it shortly.
Stage 3 – Configure DNS settings for the new Domain
Now that you have your domain you will need to have the following settings applied to the DNS management of your domain/subdomain. These changes will typically be made by your IT department or domain provider depending on whether you self-manage your domain or not. Please note that all records are mandatory.
For your newly created domain/subdomain you will need to set:
'A' record to: 'lzroute.gtml1.com' or '37.221.223.30'
'MX' record to: 'mail1.gtml1.com' (Priority 1)
'TXT' record to:'v=spf1 include:gtml1.com -all'
NOTE: If you want to configure an https domain you will need to use the A value of 37.221.223.30 additionally the domain can only have one A record and must be pointed at the ip 37.221.223.10
Create a subdomain of the subdomain you just created (if you have created one): 'key1._domainkey.' – This is for DKIM
For 'key1._domainkey.' set:

'TXT' record to: the 'Key Selector' information you copied in Stage 2.
Create another subdomain of the subdomain you just created (if you have created one): '_DMARC.' – This is for DMARC
'TXT' record to: 'v=DMARC1; p=quarantine; sp=quarantine; rf=afrf; pct=100;'
For more information on DNS Record configuration please refer to the following article:
https://help.communigator.co.uk/m/Setup/l/993225-domain-setup-guide-branded-business-domain
Stage 4 - Send information to Support
Once this has been configured contact the Workbooks Support Team at support@workbooks.com with the created domain/sub domain name and the text file saved in Stage 2, [DomainName]_keys.txt
Workbooks will provide this information to Spotler and let you know when the set up has been completed.