The Workbooks Outlook Add-in
Please note that this functionality is currently in a Beta stage and is subject to change.
The Workbooks Outlook Add-in allows you to gain greater control over the synchronisation of contacts between Workbooks and Outlook. This Add-in runs in parallel with the Workbooks Exchange Server Synchronisation (WESS) to provide a complete solution for managing the synchronisation of Emails, People and Tasks between the two systems.
In addition from having all of the core WESS functionality, those using the Outlook Add-in will benefit from being able to make a direct connection to Workbooks, creating and updating Records in Outlook itself, that will be immediately available within Workbooks and accessible for all other Users.
The Outlook Add-in appears as a sidebar within Outlook or Outlook Web App allowing you to easily review the records held in Workbooks and make quick updates to them on the go.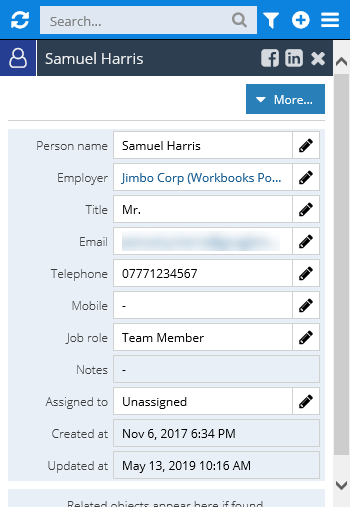 By using the As this is an Outlook Add-in you benefit from being able to access this functionality across multiple devices as well as from the web allowing you to manage your emails and contacts wherever you are.