Synchronising People & Contacts
In order to select which Contacts from Workbooks will synchronise into Outlook as People they must be in your 'My People' view, (ie, they are either assigned to you or you are watching them).
Within Outlook a colour Category called "Workbooks" will be automatically created by the WESS and any Contacts that you would like to be synchronised into Workbooks should be colour coded accordingly.

For more information on colour categories within Outlook please look at Microsoft's support article here.
As you can see below, upon creating a new Contact a category can be selected using the Categorize button in the tool bar. This then creates a coloured header on the record named Workbooks. The colour categories creation window is also included to show how a new category is created. This is accessed by clicking Categorize then All Categories.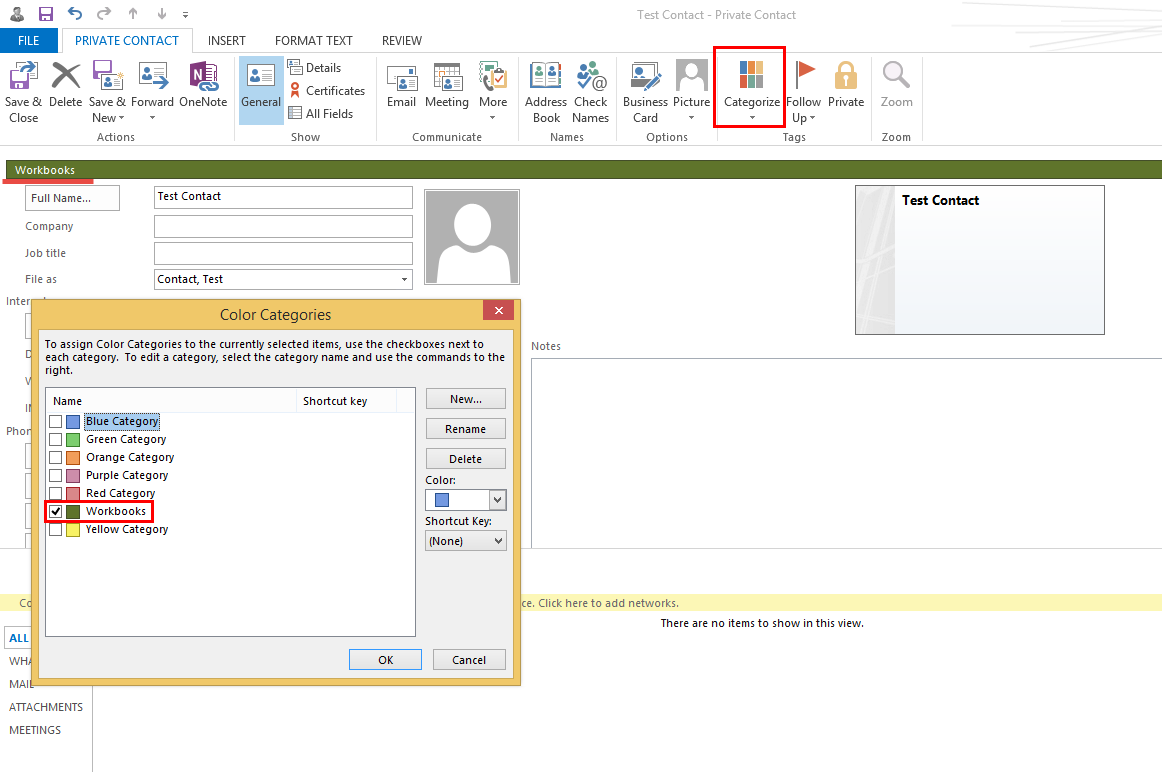 As explained in the previous section, there is no plugin for the Outlook clients so the set-up of the WESS is completed within the Configuration area of Workbooks and thus requires System Administrator capabilities. This is explained in more detail in the subsequent page, "Setting up the WESS".

Once you are set up, records can be changed in either Workbooks or Outlook and the changes will be synchronised to the other. If there are any discrepancies in data between the two, a "most recent" wins policy is employed.
A new Contact or Person is de-duplicated by the first name, last name and email address. All of these must be the same in order for a duplicate entry to be detected.
NOTE: the WESS cannot match on blank values, so if any of the first name, last name or email address are blank, it will not find the matching record, and will instead create a new one. This can very quickly build up to a high number of duplicates.
If you are creating a new Person, we would recommend doing this in Workbooks and allowing the sync to transfer the Person to Outlook as Workbooks can be tailored to include any fields that you want that are not in Outlook, and also it's easy to link to the relevant employer via a Picklist.
If you do have a Contact in Outlook with a Company name, this will transfer correctly to Workbooks. If the employer is not found in Workbooks a new one will be created, however, this is just a free text check so the employer name must be exactly the same. This is why we recommend creation in Workbooks.
Related content
How to synchronise Tasks and Meetings between Outlook and Workbooks when using the WESS.
How to synchronise emails from your Exchange server to Workbooks using the WESS by using categories.