Why Page Scoring is Important
Combining Lead profiling and Web Insights into one report allows you to identify which leads are the most valuable to your business. If you build reports based on the Web Insights data and score/rank Leads based on the Insights scores from GatorLeads, the page scoring will play a major role in determining the results. The Web Insights integration creates custom fields (e.g. Insights Total Score) on the Person, Lead and Organisation records that show the sum of page view scores over the period of time. Allocating scores to your web pages allows you to determine the Total Insights score of a Sales Lead, which can then be used in the reports as a measure of identifying the hottest leads on your website.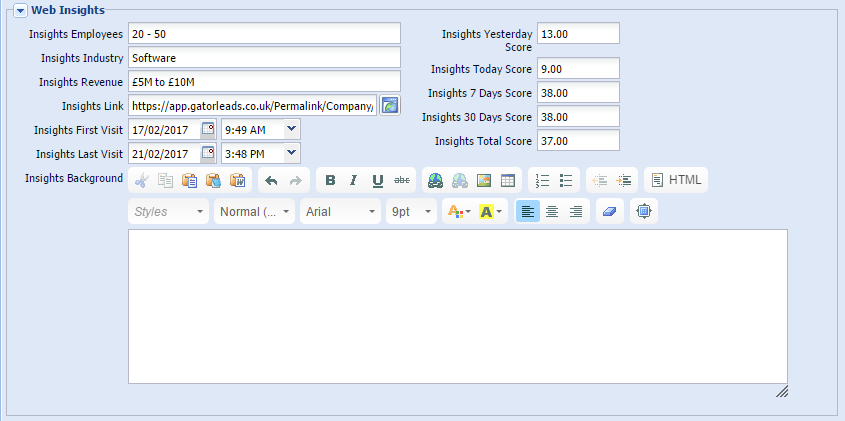 It could be that a Lead has been actively visiting your website, but only looking at blog posts, company information and downloading whitepapers. Due to the high number of page views, this lead would usually appear as 'hot' in the report, even though the content of viewed pages indicates that this lead isn't yet interested in your products/services because they haven't visited your pricing page or looked at the trial/demo options.
However, if the visitor is viewing pages about the pricing of your products and services or demo/trial request forms, this could be an indication of the visitor's interest in purchasing the product, whereas visiting the careers page or looking at the blog posts show that the visitor isn't in the buying cycle yet. Monitoring online activity over time on different types of pages allows you to identify where Leads and Organisations are in their buying cycle because you can monitor their page score.
Best Practices for Page Scoring
Every company will have different page scoring practices based on the content of their website. It's very important to define/establish which pages on your website contain key information such as pricing, demo requests or contact forms. These pages are usually allocated the highest scores so that Leads or Organisations visiting these pages are appearing at the top of reports. If you have Member or Employee login pages (e.g. a Customer Portal) and you're not interested in their online activity, you could remove the score from these pages.
The example below shows "out of the box" default values that can be used for technology companies to score website page views.
Information Pages = 2 points
Industry briefings, blog posts, company information, news pages
Product Page = 10 points
Technical descriptions, overviews, white papers, integration information
Key Sales pages = 22 points
Contact form, Demo request, Pricing page
How to score individual pages
To set up the page scoring, log into your GatorLeads account and amend the scoring in the Admin section (Admin > Page Admin > Page Scores).

To score individual pages, simply enter the term from your web page in the search bar, click search and then click 'Edit' icon on the far right.

Enter the score of your choice and click Save changes.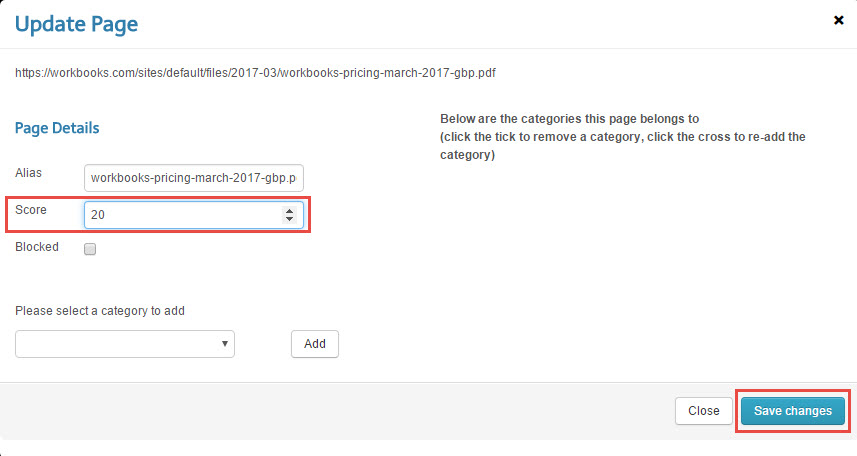 How to score pages in bulk
Search for your term, enter the score in 'Update All Results' box and click 'Update'.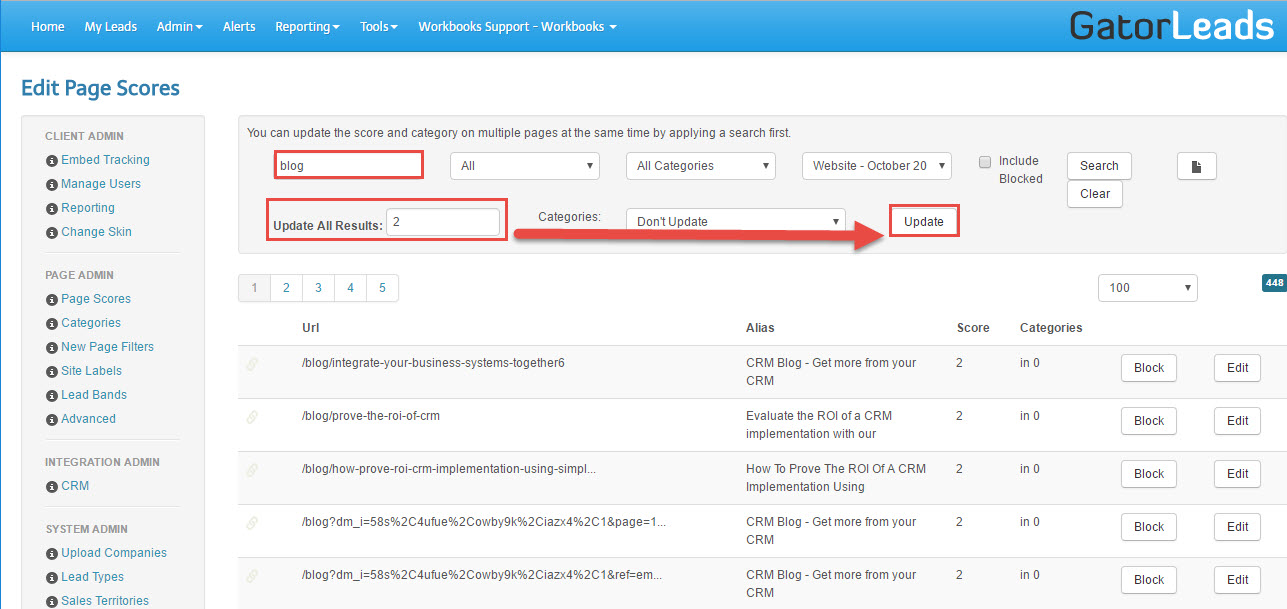 Reporting on Page Scores
Once you've scored your pages, you could then create a report that shows hot/warm/cold Leads based on their Insights Total Score. Our Hot New Leads Template Report displays leads that have visited your website in the last month, applies a 5-star rating and also uses CSS styling to colour the results based on the Insights Total score, which helps you prioritise the order in which you follow-up on the Leads.