We were recently asked how to prevent users receiving notifications for a specific queue. This is different to the notification settings found under 'Preferences' and can be done by the individual user. The following steps explain how to do this:
To begin with go to 'My Queues' and identify the queue for which you no longer wish to receive notifications. For example, to prevent yourself receiving notifications for an Activities queue go to Start > Activities > My Queues > Select the queue.

· Select the 'Pencil' icon to the right of the queue and uncheck the 'Notify me when Activities are added to the Unassigned Activity Queue' checkbox.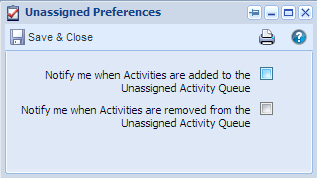 · Now you should no longer receive notifications for this queue.
NOTE: If there are multiple users in the Queue who no longer wish to receive notifications they will need to individually carry out these steps.