Here is where you can control some of the settings that affect all of your Users, including your Password Policies and Languages.
Password Complexity and Password Expiry
This is where you can set minimum requirements for a password, and dictate how secure you want your users' passwords to be. By default a Workbooks password must:
be 8 or more characters in length.
use both upper and lower case alpha characters.
include at least one number and one special character (such as @ or #).
If you prefer, you can refine these requirements to suit your security needs by navigating to Start > Configuration> Users & Security > Account Settings and changing the settings under Password Complexity.
You can also control how frequently Users' passwords expire and whether or not passwords can be reused under Password Expiry.
Forgot Password
If a user's email account is compromised then the 'Forgot Password' mechanism can become a way to take over their Workbooks account. To protect against this risk, it is possible to disable the 'forgot password' function for your users. If this is feature is enabled then only a System Administrator will be able to reset a User's password so be sure to ensure you have a robust process to reset your users' passwords.
Login Protection and Google Authentication
You can configure further protection for users accounts by using Login Protection and/or Google Authentication.
Login Protection validates a login attempt by verifying either the User's IP Address or a Cookie that is stored on the local device. If a recognised IP or Cookie is not detected on login, a verification email is sent to the User's email address so that they can verify their login attempt. Further information on this can be found here.
Google Authentication is easy to set up, manage and use. When enabled by an administrator, it requires two means of identification to sign in to a Google Apps account, something you know: a password, and something you have: a mobile phone. It doesn't require any special tokens or devices. After entering your password, a verification code is sent to your mobile phone via SMS, voice calls, or generated on an application you can install on your Android, BlackBerry or iPhone device. This makes it much more likely that you're the only one accessing your data: even if someone has stolen your password, they'll need more than that to access your account. You can also indicate when you're using a computer you trust and don't want to be asked for a verification code from that machine in the future. Further information on this can be found here.
Languages
If you have the Multiple Languages extension enabled on your account, then you have the ability to choose which Languages are available for your Users to view Workbooks in. These are selected from the Languages tab of Account Settings. Users then choose which of the available Languages they would like to use in their Preferences.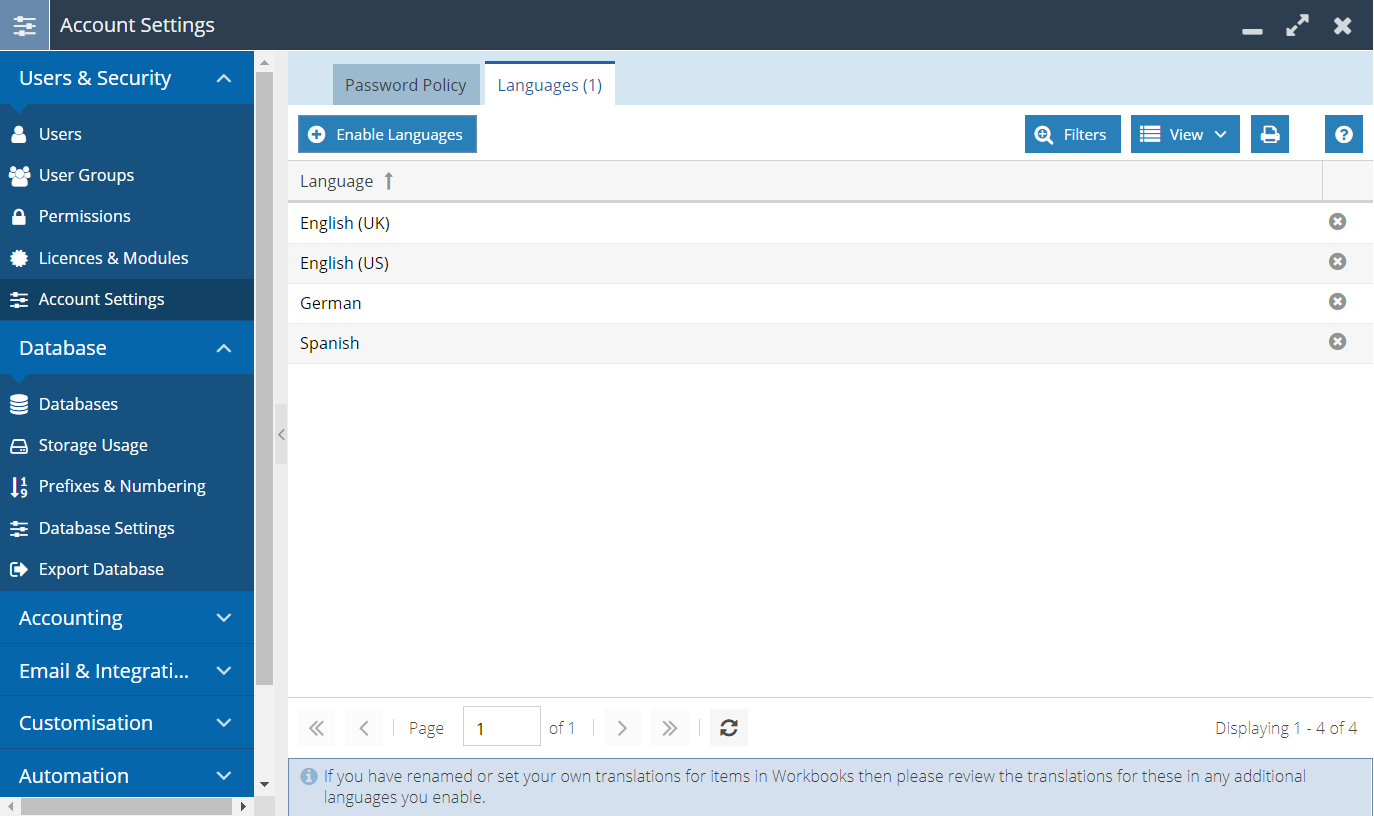 If you do have not Multiple Languages on your Account, you still have the option to choose which one language your Users would like to view Workbooks in by amending the list.