Here is where you can control some of the settings that affect all of your Users:
Authentication
Licences and Modules
Databases
Languages
Authentication
This is where you can set your company Authentication Policy and it will give you the option to choose between different Mult-Factor methods as well as simple Password Policy.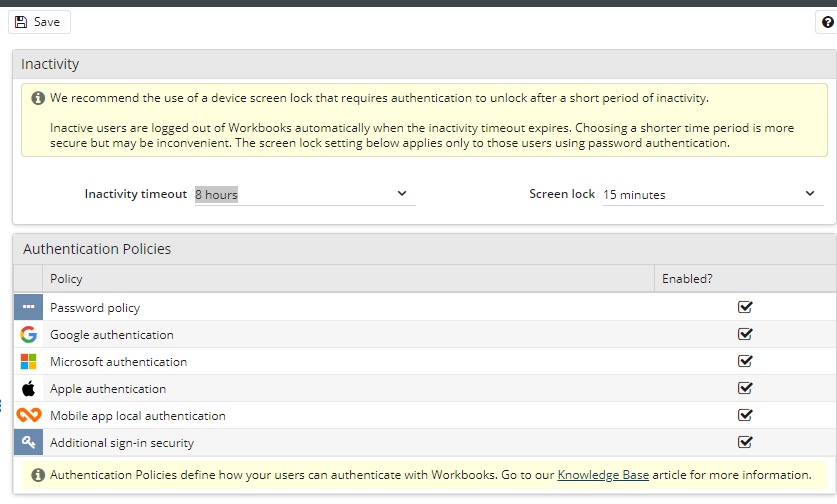 By default a Workbooks password must:
be 8 or more characters in length.
use both upper and lower case alpha characters.
include at least one number and one special character (such as @ or #).
If you prefer, you can refine these requirements to suit your security needs by clicking on Password Policy, including how frequently Users' passwords expire and whether or not passwords can be reused and whether you want users to have the option to click Forgotten Password on their login screen.
We recommend using a form of multi-factor authentication, and we integrate best with Microsoft. You can find out further info on how to link Microsoft Azure Directory with Workbooks here
Additional sign-in security
If you enable this setting, when a new device is detected with a user account, an activation email will be sent to the user's email address to ensure that it is the user in question who is logging in. 
Inactivity
This section gives you the option to decide how long the system waits before signing a user out of Workbooks to ensure that if someone leaves their desk, their account won't be used by another person. The Inactivity timeout picklist gives you options from 5 minutes all the way to 24 hours. 
You can also decide how long the system is inactive before locking the screen. This won't sign the user out, maintaining anything that they are currently working on in Workbooks, however they will need to sign back into Workbooks using their user account password. 
NOTE: This option only affects accounts with Password Policies. It does not affect accounts that are configured to use multi-factor authentication (eg. Microsoft, Google)
Licences & Modules
Here you can check what modules and licences you have available and you can find out which Users are assigned the licences. 
Databases
Here you can check what databases you have available and you can create new databases. Customers are limited to a maximum of 5 databases as standard subject to storage limits. 
More info can be found on how to create databases here
Languages
If you have the Multiple Languages extension enabled on your account, then you have the ability to choose which Languages are available for your Users to view Workbooks in. Users then choose which of the available Languages they would like to use in their Preferences.
If you do have not Multiple Languages on your Account, you still have the option to choose which one language your Users would like to view Workbooks in by amending the list.