Setting up GatorMail Workflows
Once you've sent your GatorMail Campaign, you can use Workbooks to set up automated Workflows that can be used to send a series of follow up Emails. Using an automated marketing system ensures that the Mailshots are followed up in a timely manner, this allows your Marketing team to optimise the ROI of Campaigns.
To set up this automated process, you will need to build Reports and these follow up emails can be based on specific criteria within the Report. This guide will walk you through how to set up two follow on Mailshots to be sent after the original email has been sent. One Report will be used to contact Mailshot Members that opened the original Email and the second will contact those that did not.
Step 1 - Build the Report
The first step is to build the Reports that will form the basis of our workflows. In this case, we can use a single Report with two Summary Views - those who did open the Email and those who did not. We would recommend creating a copy of the original Report that was used, as this Report is being used to control a potentially live Campaign changes in the Members could mean that incorrect people receive the communication.
From the original Report use the Copy Report Button, you may want to rename this in order to prevent confusion later on.
The first thing we will need to do is add two new columns on to the Details tab:
Online Activities > Online Activity Type
Online Activities > Marketing Campaign name
A Criteria will need to be added so that the Field Marketing Campaign name equals the name of the Campaign that the original Mailshot was sent from, this will then only show you the Online Activities for the Campaign Members specific to this Campaign.
Finally add a calculated Column called Email Open Count with the following formula:

IF(online_activities.online_activity_type = "Email Opened", 1, 0)

This will create a column that outputs a 1 every time an email has been opened.
You can now add a Summary View to show which Recipients have opened the Email. First add the Person Reference as a Grouping column as well as the Person's Name and Email address as value columns.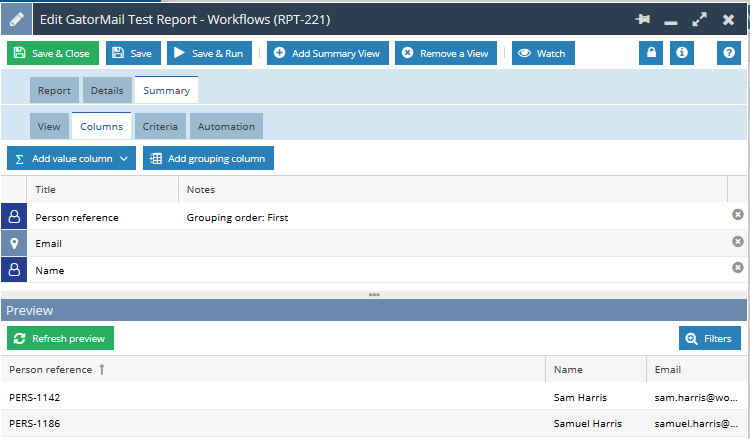 Now add a Subtotal column to show the Total Email Open Count: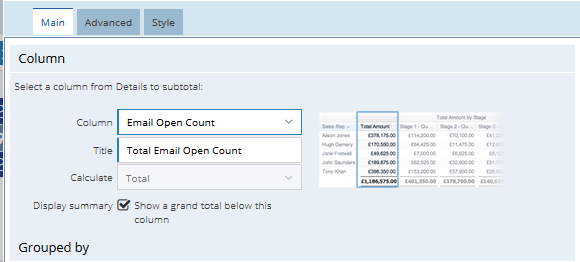 This will give a list of all of your recipients from the original Mailshot and a count of the number of times they have opened the Email.
Finally, apply a calculated Criteria to show where the Total Email Open Count is not equal to 0.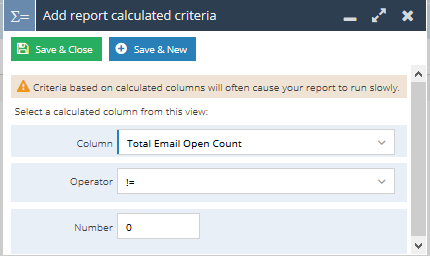 This Summary View will now show you which recipients opened your email.
For the second Summary View we simply need to make a copy of this and name it Members that did not open the Email.

On the Criteria of this tab you will need to change the Calculated Criteria from Total Email Open Count is not equal to 0 to Total Email Open Count is equal to 0.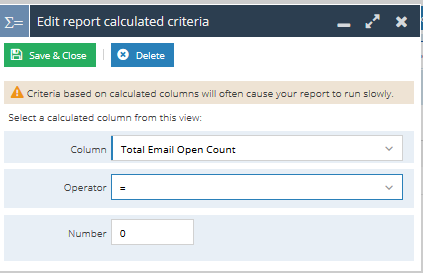 This Summary View will now show you all of the Campaign Members that did not receive your initial communication. However, this view will not currently differentiate between those who received the email and did not open it and those who did not receive the email.
If you want to distinguish between these two groups we can do this by adding another calculated column called 'Received Email?' on the Details tab. By adding the following Formula:

IF( online_activities.online_activity_type = "Email Bounce" OR online_activities.online_activity_type = "Undeliverable", 1, 0)
This means that if an Online Activity of Type Bounce or Undeliverable was generated this column will output a 1, otherwise a zero.
On your Summary View you can now add another Column to Show the Total Received Email.

Now add a second Calculated Criteria to show when the Total Received Email is 0.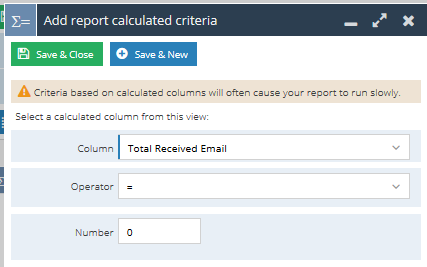 This will now limit the Summary View to only recipients that received your first email but did not open it.
Once you have created these two Summary Views can Save & Close the Report.
NOTE: It would also be possible to add time based criteria on your Report, thereby only adding people to these Reports once the initial email was sent a certain time ago, such as a week.
Step 2 - Configuring your Campaign
We now need to create two new Dynamic Mailing Lists, one from each Summary View, a full guide on how to do this can be found here.
Once the Mailing Lists have been created they need to be added to your Campaign, this will not affect the number of Members in the Campaign as both of these Mailing Lists should be a subset of your original Mailing List.

Step 3 - Creating the Mailshots
You will now need to create two new Mailshots, this is done from the Mailshots tab of the Campaign.
Once you have created a New GatorMail Mailshot you will need to select Member Lists from the Recipients option and choose the appropriate Mailing List for each of the Mailshots.

You will now see two additional Draft Mailshots

These can now be Synchronised to GatorMail and set up to be initiated by adding a start date. you want them to send from.
Online Activities will now flow back into Workbooks from the subsequent Mailshots, both against the Campaign and each Individual Mailshot.