Over of the past ten years Cloud Computing has drifted from a term used almost exclusively by the IT elite to the technology behind your elderly parents smart phone.

Consumers and businesses have embraced the new technology and so investment and advances have become exponential. Cloud computing has truely become the norm with services such as Google drive, Dropbox and Amazon (web services) being part of most of our daily lives.
Yet, as with most technology a level of confusion and complication has risen with the rise of the cloud based powerhouses. New technology (e.g. Apple Pay & mobile website requirments) rise from unheard of to mainstream within a matter of months and businesses are told to adapt or die!
So are these businesses (particularly those small and medium sized businesses already lean in human and financial resources) able to keep up and embrace the new technology or are they left out in the cold, out maneuvered by their larger competitors?
Table of contents
1. A partnership with Getapp

To uncover answers to these questions we've teamed up with GetApp (an independent software marketplace) who asked 500 small to medium sized businesses the following question:
From the following options, what's the biggest benefit cloud-based apps have brought to your sales team?
They've made our lives simpler
They don't help our sales in any way
Other
They indirectly increase our sales
They improve our prospect profiling
They directly increase our sales
They create more admin work for us
---
2. Results – 500 SMB's Interviewed
Key points: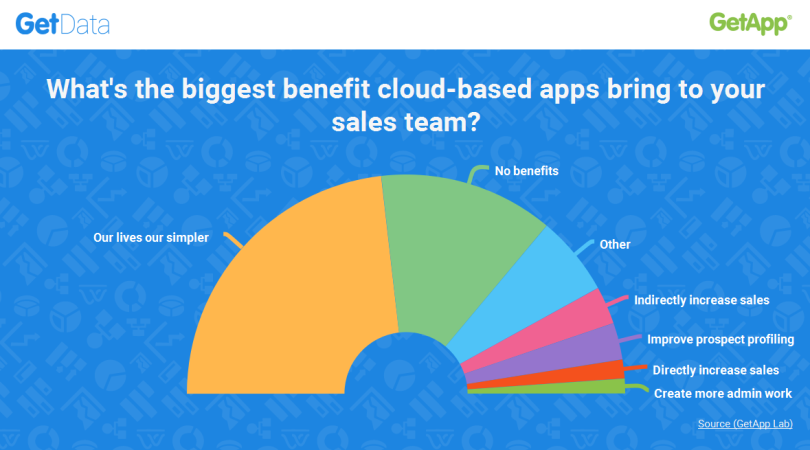 46.4% felt cloud-base apps made their lives simpler
Only 8.4% saw a direct and/or indirect sales benefit
A huge number (just over 25.8%) saw no benefit
Since we represent a cloud-based CRM we're pleased so many businesses found their lives simpler since cloud adoption. Yet why did 25.8% (129 of the 500 asked) find no benefit? Had they simply not adopted cloud-based apps or were they so complicated they had become overwhelmed and failed to implement correctly?
This would certainly align with research we uncovered on CRM Software; we discovered "Anywhere from 25% to 75% of CRM implementations fail to meet expectations, or fail outright and never get used." With such a high number in just the CRM sphere it's likely the issue (failed implementations) extends beyond CRM into multiple cloud applications.
---
3. Why switch to cloud computing?
In order to fully understand whether cloud computing is helping or hindering small business we interviewed another two companies (one US based and one UK) to determine why they made the shift and if they continue to benefit.

4. National Reprographics case study
Sergey Kirillov from National Reprographics, Inc. (NRI) shifted to cloud based hosting following a major natural disaster and hasn't looked back since. Sergey writes:
"The decision was made following hurricane Sandy; both our Manhattan and Brooklyn offices were closed for almost 5 days with no power, phones or internet. Since our Queens office still had electricity and internet we moved all servers there and post restoration we began moving the servers back.
After the infrastructure was updated and website propagated it took almost 2 weeks to get the system back to normal operations. We decided to move to the cloud.
Initially to keep our servers running in case of another disaster. But then we realized cloud isn't only about remote storage and began widely embracing and adopting further options (content delivery based on region and automatic load balancing and healing).
Personally I went from skeptic to 'fanatical believer' and now just love Amazon cloud."

5. Trusted Care – Case study
Mark Walford (CEO of Trusted Care) has two offices at different ends of the country, set-up with cloud-based apps to improve communication between staff and data. Mark writes:
"Our business is split between two offices at different ends of the country, our sales and marketing office is in Oxfordshire and our tech team and developers are based in Worcestershire.
Cloud storage enables us to store, share and access data and documents from the two sites or wherever one of the team is working in the UK.
Being a 'start up' the team is often all over the country visiting clients, suppliers and third parties, having access to data and documents no matter where we are has enabled us to grow quickly and solve problems wherever we are."
---
6. Conclusion
Companies (such as NRI & Trusted Care) that have a successful implementation see huge benefits in cloud computing, with cost savings and flexibility being the main driving forces.
However when inappropriate systems are adopted (particularly systems that don't 'talk' to existing software) the time it takes to complete tasks can actually extend, marry this with the costs involved and you can see how rising friction can amount for some organisations.
Takeaways
The main drivers for cloud based-apps are location independence, leverage, costs savings and flexibility
Companies with successful cloud adoptions haven't looked back
Do you represent a small to medium sized business? How does cloud computing benefit your business?