Your marketing team are all busy working on campaigns, analysing website performance, driving social media activity, managing events all trying to move the needle on lead generation and build your brand.
But how do you keep track of all their activities, ensure they are focused on the right areas, hitting their targets and collaborating as a team?
Answer:  Use your CRM system to create and track activities, events and campaigns and use the data to report on targets.
Activities in detail
A core component of any CRM system is the concept of activities – things that need to be completed by a specific deadline. You can configure activities in many ways to suit your business needs and include as much or as little detail as relevant.
Below is an example of one of my team's activities: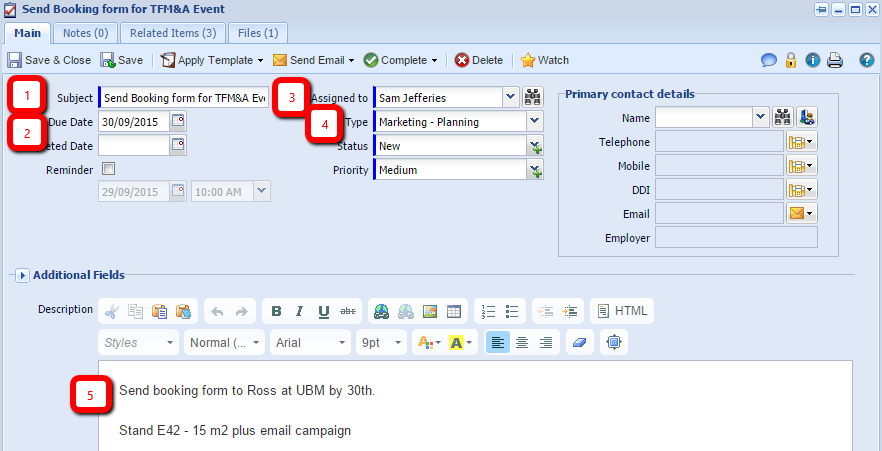 Breakdown:
1) The subject field contains a brief snapshot of what the activity is about.
2) The due date shows a date of the 30th
3) The assigned to field shows I've assigned the task to Sam in my team
4) I've chosen the activity type as Marketing-Planning
5) I've added extra details relevant to the activity within the Description text box
You can include as much detail as relevant. In this particular example, you will see we have made use of the Related Items tab to link the person, organisation and supplier order that relates to this activity so that all of the information is in one place for us to look at.

To allow for clearer auditing we have also used the Files tab to attach the booking form that needs to be sent.

Using reports to see what my team is working on
So how do you use activities to keep track of your team? Answer: Create reports and dashboards.
I have created the below report to show all of my teams open activities using a Criteria where Type starts with Marketing (so I only see their marketing related activities) and 'Record state is open (so I only see activities that still need to be completed.) We have also added a calculated column to show if activities are overdue.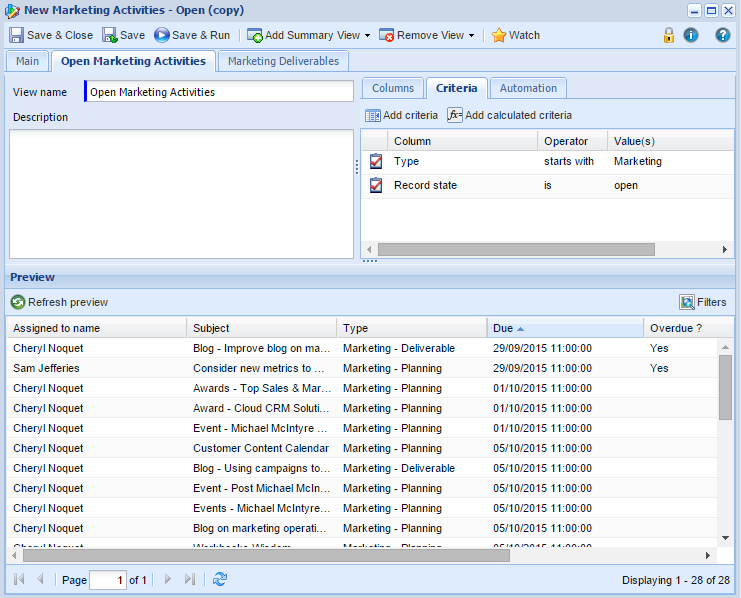 At Workbooks we mark certain activities as Marketing " Deliverable which include tasks with a deliverable output e.g. an email campaign has gone out or PR has been released. I have added a summary view to my report to see these important activities so I can get a quick snapshot without getting bogged down in all of the detail of their general day-to-day marketing tasks.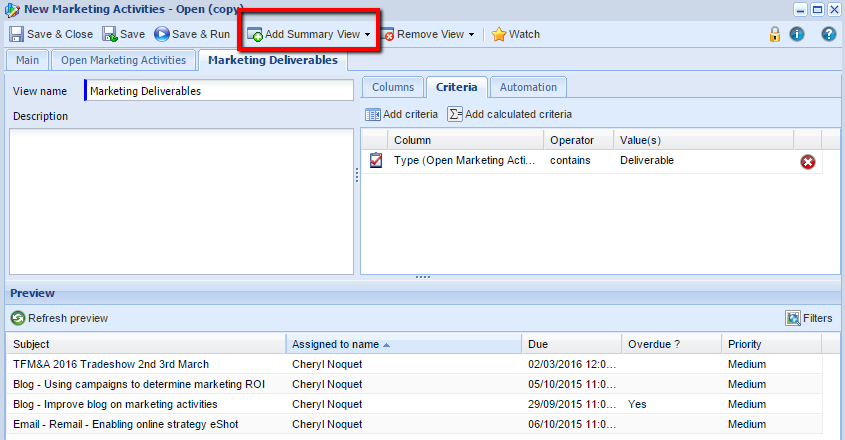 Using Dashboards to manage all of these activities
You can then create a Marketing Activities Dashboard to group together all of the reports that you might be interested in when managing your team. In the below example we have 4 reports in our dashboard:
1) Open Marketing Deliverables
Shows the important activities that have a deliverable output e.g. email campaign releases etc.
2) All Open Marketing Activities
See all of the marketing activities that are open and due any point in time so you have a complete view of everything that is coming up.
3) Open Marketing Activities due this week
See your teams workload for the coming week, you can then analyse if the workload is realistic and achievable and if anything is missing.
4) Marketing Activities completed last week
See what your team achieved last week and if this was in line with what was planned.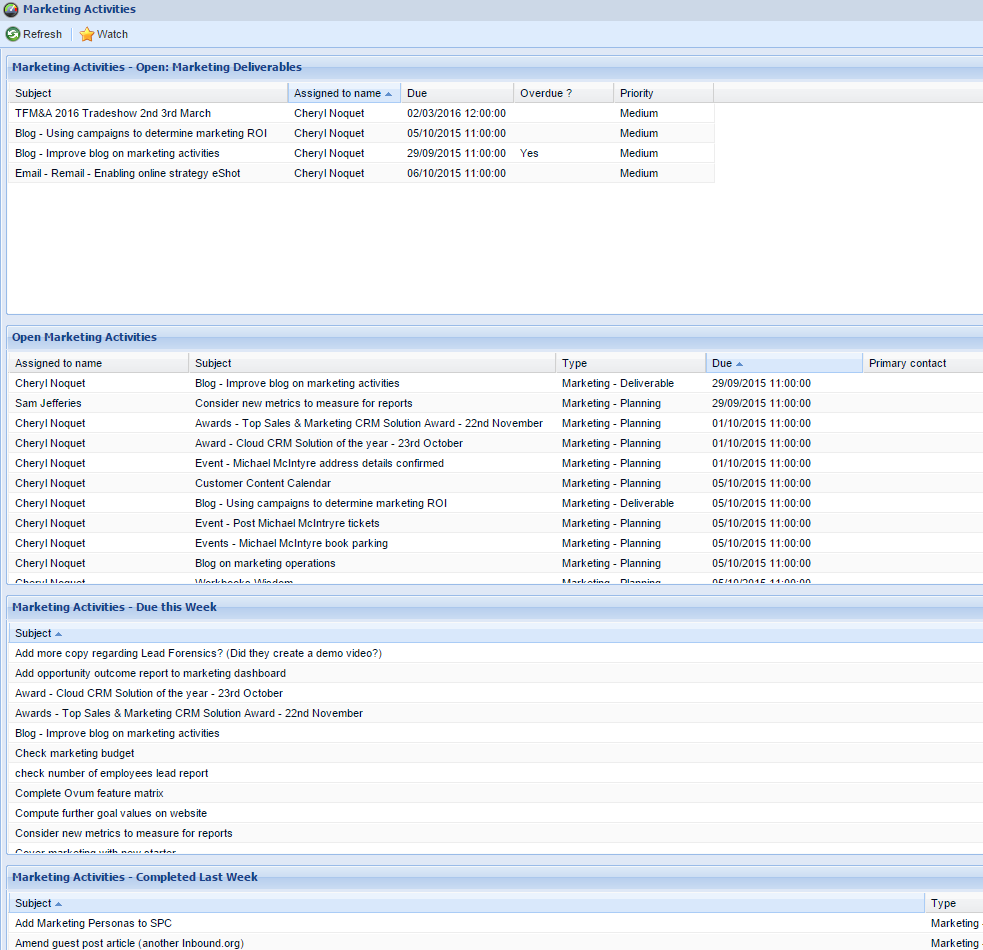 We recommended that you review these activities with your team regularly (e.g. at a weekly marketing meeting) so that you can monitor last week's performance as well as manage the current workload and re-organise priorities if necessary. This will help your team ensure they are accountable as well as improve communication to make sure you are working towards the same goals.