The Cloud is here, no question about it
Everyday we're coming across more and more businesses moving online and switching to Cloud Technologies. From Google Docs to Amazons Web Services the Cloud is here to stay.
But what does this actually mean for businesses?
Will the way you run your business change and how can you adopt these new technologies to drive increased profits?
To answer these questions we've gathered three independent cloud experts who together have worked with hundreds of small to medium sized businesses advising on Cloud Technologies.
Table of contents
---
1. What is Cloud Computing?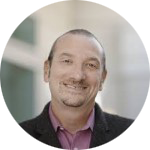 Esteban Kolsky is the founder of ThinkJar LLC an organisation set-up to help organisations approach Cloud based technologies such as Customer Relationship Marketing (CRM) & Customer Experience (CX) Solutions.
Esteban – Let's start with the basics, just what is Cloud Computing?
"The concept behind cloud computing originated in the 1930s from experiments carried out by the US military in how to implement distributed systems for faster execution of tasks.

It was not until the 1950s that we have the first mentions of cloud computing (back then the references were made to distributed computing or network computing).

Through the past few decades, cloud computing became better developed and defined. Today we call cloud a distributed model of computing that leverages an open and extensible network to allocate processing power from many different independent computers to accomplish a single task faster and simpler." 1.
---
Thanks Esteban, so in summary: 'Cloud Computing is a network of connected devices (such as servers, laptops and mobile phones) which are all accessible to each other allowing flexibility and cost savings due to economies of scale and accessbility.'
---
2. Examples of Cloud Computing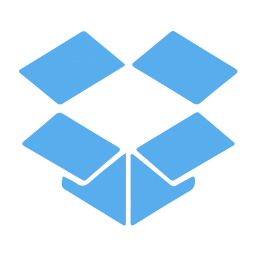 Dropbox – Cloud pioneer
Dropbox have physical servers which have been made open to anyone who registers with the service. Once registered you can store & download files directly to/from the Dropbox servers.
Since Dropbox have made their service accessible via a website and App users are able to access the service remotely and conveniently.
In all likelihood you're already used to working with Cloud technologies such as Gmail, Youtube & Dropbox.
All these website leverage Cloud computing to deliver their service, without the Cloud these services simply wouldn't exist.
What we are beginning to see now is the rise of traditional services shifting to the Cloud such as OS maps being replaced by Google Maps, address books and spreadsheets being made obsolete by cloud based CRM systems.
So, what does this actually mean for the small business?
---
3. What's the advantages of Cloud Computing for businesses?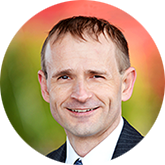 Ian Moyse sits on the board of Eurocloud UK and was named by TalkinCloud as one of the global top 200 cloud channel experts.
To answer this question we turned to Ian Moyse.
Ian – How can businesses actually benefit from using cloud based technologies?
"Cloud brings great benefit to the average size business, allowing the smaller business owner more choice and the ability to afford solutions that previously were only within the budgets of larger enterprise clients.
Cloud platforms and services also afford many smaller companies to compete more effectively with larger competitors and to enjoy growth against legacy competitors who are not nimble enough to change systems and approaches to benefit from today's more effective and flexible cloud platforms.
Cloud adoption in the smaller business has continued to grow to the point that in 2014 surveys showed 61-68% of small companies had adopted cloud in some way with 43% claiming they 'wish they had done so sooner'! 2.
Areas that a small business can benefit from cloud based systems include:
1. Resilience of systems
The level of availability and security provided by experts running it in their datacentres for you is far greater than having localised boxes where you have to worry about your hardware, system patches and application upgrades. Additionally if anything does go wrong you have to deal with it in a timely fashion.
Do you have the resources to deliver 24*7 maintenance and pay for unexpected maintenance/fix costs or even want to worry about this?
Surveys in 2014 cited 96% of SMB's on cloud worry less about outages and 75% have seen improved service availability. 3.
2. Easy and consistent backup of data
We probably all agree and know that important data should be backed up at least daily, and ideally off site to multiple locations.
Who really does this in practice? Particulary in a smaller business where the resources to enable this are sparse if at all existent? Using a cloud system, backups are done for you and taken off your hands and you gain the benefit of best practice without the pain and costs associated.
3. Mobile any device access
In today's world users expect to have easy access to business information and applications on the move accessbile from any device and any lack of this is seen as a hindrance.
Certainly as the Millennial generation join your business this generations benefit to your business will be limited and hindered if you cannot deliver this easy open access.
Cloud systems handle this for you, where using traditional IT approaches has been clunky if not complex to deliver securely and easily.
4. Flexibility
IT should enable your business and users to be more effective, to better serve customers, to be better informed and make smarter decisions and to be able to do more in an efficient manner. To enable this you need to focus on the business aspects and not technical aspects of IT that usually bog you down.
Cloud takes the technical side away and serves it up for you to focus on the business efficiencies you gain. It also makes change and growth easier and more flexible as well as affordable. Often smaller firms have found that the costs of change or IT have prohibited them from doing things in the way they would ideally choose.
5. Easy and affordable maintenance
IT has become over the years a costly part of a business. Not just in acquisition, but in maintenance of systems, security and upgrades. Upgrading hardware, operating systems and software and managing the dependencies between them (e.g. the latest software upgrade) can be hard work for a small business.
So much of the world runs on old unsupported versions of Windows and remains on insecure unpatched systems much of the time. A cloud world moves all this of this to the cloud provider who take responsibility and cost for this and roll it into your service costs.
They can deliver more consistency far easier and cost effectively as they are doing it once or limited times for all their customer base instead of each customer trying to do it in isolation.
Surveys in 2014 cited 51% of SMB's using cloud are spending less time managing IT and 50% required the same or fewer internal IT resources despite growth. 4.
The smaller business has the opportunity today to benefit greatly from the computing advancements that cloud offers and should consider a cloud solution in every IT refresh, update or new system evaluation as a viable and in fact often preferred option.
Take the emotives, the 'we have always done it that way' and any resistance from IT people out of the equation and see change as a positive enabler for your business."
---
Thanks Ian, Frank – We understand you've worked with many businesses as a Cloud expert. What benefits can Cloud Computing bring to employees themselves?
---
6. Remote working flexibility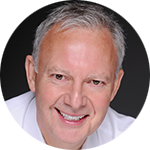 Frank Bennett is an author and commentator on Cloud Computing and wearable tech enthusiast. He is on the Board of EuroCloud UK and advises businesses adopting cloud on both the supply and buy side.
"In 2014 UK legislation was introduced for employees to request flexible working arrangements. The cloud is helping employers accommodate these requests particularly when an employee's work has a dependency on access to IT systems.
Where those IT systems (e.g. email, CRM, Accounting) are cloud based it is easy and affordable to grant flexible working arrangements and the employee to remain productive. This is also helping SMEs to attract employees and employee retention.
Most people think of cloud as a technology phenomenon whereas it is creating many new opportunities to reframe how we organise our work (anytime, anywhere) and deal with the awkward pursuit of work life balance.
The cloud is a connector and the office is no longer the only place to get things done. A poll carried out in 2014 by O2 Business made the rather startling claim that 46% of workers think coffee shops are a more productive workplace than the office.8 Perhaps the coffee shop serves better coffee but as they are all now equipped with Wi-Fi that productivity is captured with the cloud."
---
By now you'll have a good feel for what Cloud Computing is and how it can benefit you. But should you have security concerns?
With private data being hosted externally and easily accessible worldwide should you be concerned over security?
In order to answer this question we turned to Frank Jennings.
---
Should we be concerned with Cloud Security?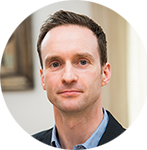 Frank Jennings is a lawyer specialising in cloud & data security and regularly advises cloud providers and customers on data security issues.
Frank – With more businesses adopting cloud technologies and rising data protection laws, should SME's be concerned over cloud security?
"Businesses should take proactive steps to protect their data. Not surprisingly, data security (Is my data safe?) and data sovereignty / residency (Where is my data?) are key concerns raised by businesses contemplating a move to cloud in every survey I've seen over the last 5 years.
1. Is your data less secure in the cloud?
In fact, data security is just as important in an on-premise environment. Some businesses have told me they believe their data would not be secure in the cloud as cloud is inherently insecure.
This fatuous belief is also held in reverse: that data is automatically secure just by storing it on-premise. While it is true that centralising customer data in a data centre might make it a more obvious target for hackers providers invest heavily in security measures and spread the cost across all their customers.
Unless data is similarly protected on-premise, the business will be hoping nobody finds their data; and security through obscurity is hardly an effective strategy.
2. Data center security
Clearly, you should undertake diligence on your prospective cloud provider and its data centre. For example, what Tier is the data centre? Does the provider have any recognised accreditations such as ISO27001 or 27018? Is it affiliated or accredited by recognised trade bodies such as the Cloud Industry Forum or the Cloud Security Alliance?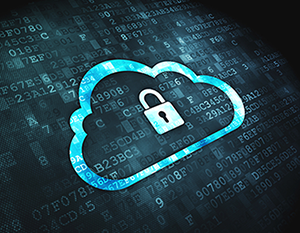 You should also ask where the data centre is, not necessarily with a view to preventing transfer of data outside the UK but because it is sensible to know from a compliance point of view. Don't base your move to cloud on trying to evade the NSA, as there is an equivalent body in every country.
If it is based in the USA, you should ask not just if they are Safe Harbor registered but also for proof of how they will actually protect your data.
You should also identify who will get access to the data, not just at the provider's end, but within your business. After all, you can put in place secure technology, but it can all be undone by a disgruntled or ignorant employee.
Public VS Private VS Hybrid Cloud Security
Not surprisingly, as a cloud lawyer, I advise my clients to read the contract terms. Public cloud contracts are generally not negotiable and they contain numerous provisions disclaiming the provider's risk, including for loss or corruption of data.
Public cloud has many advantages of course, but the terms are heavily biased in the provider's favour so you need to go into it fully aware of what you're buying.
On the other hand, private or hybrid cloud can be tailored to your needs and you can negotiate the contract but smaller providers might be outsourcing data storage to a third party. If your data is being held by a third party, unless you have a direct contract with them, you will have no direct control over your data. You need to ensure you can get back your data later.
Cloud can offer many advantages to a small business but it is important to evaluate what you are buying to make sure it will deliver the security standards you require."
---
Cloud Computing – What does the future hold?
Google Trends for Network Computing VS Cloud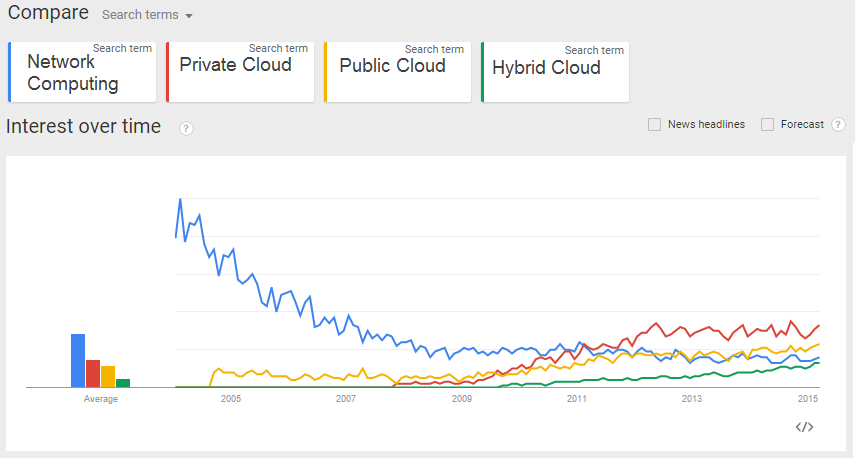 Google searches suggest a huge decline in network computing when compared against 'public', 'private' and 'hybrid' cloud searches.
We can confidently predict a continued increase in Cloud Technologies with more and more traditional businesses evolving to take advantage of cloud based technologies.
Further predictions:
Increased investment
Forrester (analyst group) predict that the world cloud computing market will grow from £23.5bn in 2011 to £100bn by 2020. 5.
'As a result, by 2020, if you were to ask a CIO to draw a map of their infrastructure, they would not be able to, says David Merrill, chief economist of Hitachi Data Systems.'7.

"He will be able to say 'here are my partner providers'," he comments, but he will not be able to draw a diagram of his infrastructure. 6.
Software and Infrastructure
A sharp rise in Platform-as-a-service (PaaS) and Software-as-a-service (SaaS) is predicted, enabling businesses to scale their hardware & software quickly and conveniently allowing a sidestep from physically storing and maintaining large cumbersome servers as well as a reduction in initial software license charges.
Further reduced costs
With the rise of ARM processors (50 billion produced in 2014, 10 billion in 2013) a reduction of heat, costs and power use has become available, combining that with an increasingly competitive cloud market, cloud providers are beginning to pass on cost savings to customers. 9.
We hope you now see the future of cloud technologies is bright – With more and more SME's taking advantage of these solutions to reduce costs, increase profits and expansion we're excited to be riding this fundamental shift in how businesses are operating.
---
Contributors biographies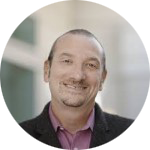 Esteban Kolsky
Esteban Kolsky is the founder of ThinkJar LLC an organisation set-up to help organisations approach Cloud based technologies such as Customer Relationship Marketing (CRM) & Customer Experience (CX) Solutions.
---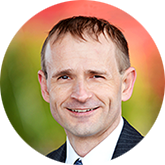 Ian Moyse
Ian Moyse sits on the board of Eurocloud UK and the Governance Board of the Cloud Industry Forum (CIF) and was named by by TalkinCloud as one of the global top 200 cloud channel experts in 2011. He is listed on the MSPMentor top 250 list for 2011 & 2014 which tracks the world's top managed services experts and was listed in the top 25 of the worldwide SMB Nation 150 Channel Influences list in both 2012 and 2013.
---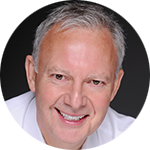 Frank Bennett
Frank Bennett is an author and commentator on Cloud Computing and wearable tech enthusiast. He is on the Board of EuroCloud UK and advises businesses adopting cloud on both the supply and buy side. He blogs regularly at www.frankbennett.co.uk
---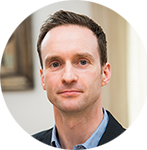 Frank Jennings
Cloud Lawyer & Commercial Contracts – Wallace LLP
Frank Jennings is a lawyer specialising in cloud & technology, data security, intellectual property and commercial contracts.
His clients come to him not just for his specialist legal advice but also rely on him for his "can do" mentality and his pragmatic approach to solving problems and managing risk. Frank regularly advises cloud providers and cloud customers on a range of issues including identifying and managing risk, robust contracts and data security issues.
Frank chairs the Cloud Industry Forum's code governance board, is on Twitter at @thecloudlawyer, blogs at http://thecloudlawyer.net and is ranked #1 for cloud law by the independent legal directories.
frank.jennings@wallace.co.uk
---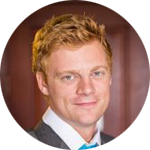 Sam Jefferies
Sam Jefferies is the Digital Marketing executive for Workbooks CRM. Workbooks provides CRM Software aimed at small to medium sized businesses. To find out more sign up for our 30 day free trial.
---
References
1. Esteban Kolsky, 2012. Defining a Pure, Open Cloud.
---