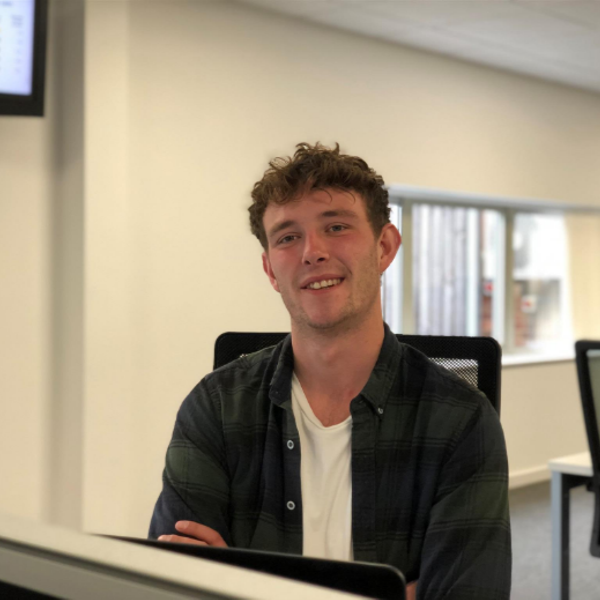 GAVIN – CUSTOMER SUPPORT ANALYST
At Workbooks we pride ourselves on being the friendly CRM company with a team on hand to answer any questions you have and to make sure our system is running perfectly. Gavin is part of that team and he is the voice you will hear on the end of the phone if you call us with any support queries.
What is your current role at Workbooks?
Customer Support Analyst
How long have you been here? 
1 year and 8 months
Tell us how your career path brought you to Workbooks?
After finishing my Chemistry degree at the University of Bath I decided that being cooped up in a lab all day was not the life for me. I am definitely a 'people person' at heart, and making people happy is what I enjoy most. A Customer Support Analyst role at Workbooks was the next logical step for me as I wanted to use my natural interpersonal skills, as well as the problem-solving skills I had acquired during my time at University.
How do you use CRM in your day-to-day working?
I use every part of it. Mostly utilizing the 'Cases' Record Type which we use for support tickets. However, due to my role at Workbooks I more or less know the whole system inside and out. If I didn't then it would not be possible for me to support our customers as best I can.
What do you like most about working at Workbooks?
I like the 'small business' vibe that we offer. It gives me exposure to all parts of the business. As you might imagine this is fantastic for obtaining a wide range of skills. I also like the social dynamic in the office, everyone gets along very well. I can have a great chat with anyone that works here, even John Cheney (our CEO). I don't think this would be possible in many businesses.
What would be your best weekend activity?
Hmmm… This is a difficult one. I would probably say rocking out (badly!) with my band mates in the practice room. A very close second would be going for long walks whilst… you guessed it, listening to music. Perhaps stopping at a few pubs whilst I'm at it. I also quite enjoy acting.
Which four individuals, living or dead, would you like to eat dinner with the most?
Serge Gainsbourg
The Beatles (Counting these as one)
Jack Kerouac
Brad Pitt (He's such a cool dude)
What piece of advice would you give to your younger self?
Work hard, pursue sport more, don't get into trouble, and don't worry about what people think.
What is your favorite flavor of cake?
Vanilla Cheesecake