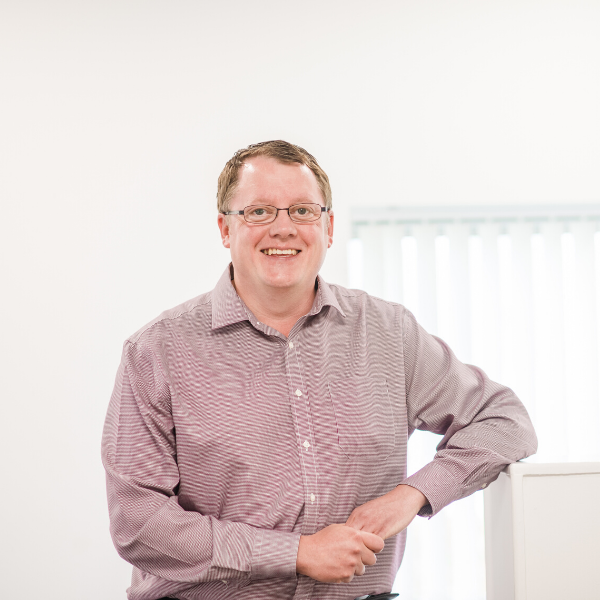 KEITH – SENIOR IMPLEMENTATION CONSULTANT
At Workbooks we pride ourselves on being the friendly CRM company with a team tasked at looking after you throughout your whole time with us. Keith is part of the team that makes sure your CRM is exactly how you want it to be, making sure everything works before you start using the system and keeps working.
What is your current role at Workbooks?
Senior Implementation Consultant
How long have you been here? 
7 years in current stint and role, but I also did 3 years in Support.
Tell us how your career path brought you to Workbooks?
After studying Computing at university, I joined Logica (now CGI) on their graduate scheme in 2004. My interest in databases led to a SQLServer and application support role, which involved working with a range of clients. I thoroughly enjoyed the customer support and technical aspects of the role, but wanted to explore IT and the world… so I relocated from South Wales to Reading to join Sage in 2009, then joined Workbooks – for the first time! It was 2009 and we were a pre-launch start-up, with no customers! That changed pretty quickly and within 3 years we had well over 100 direct customers knocking at my door for Support. After 3 years I needed a break from Support (wanted to move to Professional Services) and learnt the basics of consulting, then returned to a position in the Professional Services department, and I've been here ever since, implementing a wide-variety of new clients and revisiting existing clients to help them get the most out of their Workbooks systems.
How do you use CRM in your day-to-day working?
Almost everything! New projects (Cases) are assigned to me. We use Email Templates to kick-off the communication on a project, we scheduled a requirements gathering session, and I turn up onsite to really get stuck in to the new project. Once I understand the requirements and agree the design of the desired solution, I'm generally logged into the client's system to build it, then walk the customer through the system, enter user acceptance testing, data load, go live.  I use email to communicate with the customers, but all important emails are stored against the project case in Workbooks, and I even record my timesheet in Workbooks too!
What do you like most about working at Workbooks?
It's a great company as we're all in it together. We help each other out and make sure we keep our promises. We're constantly evolving, growing, taking on new starters, but we've also got plenty of "lifers" too! Workbooks aside, our clients are fantastic and as the nature of their business varies greatly – finance, IT, manufacturing, charities, the list goes on… – it keeps me interested.
What would be your best weekend activity?
Getting out and about for a walk or hike… or if it's early in the year and the weather's not so great, what's better than a few pints and the 6 Nations rugby. Come on Wales!!!
Which four individuals, living or dead, would you like to eat dinner with the most?
Alan Turing
Ayrton Senna
Dave Grohl
Eric Cantona
What piece of advice would you give to your younger self?
I'm going for a few here…
Always seek advice yet have confidence in yourself and your decisions. Make time for yourself so you can digest and synthesize information and your general thoughts.
What is your favorite flavor of cake?
New York Cheesecake