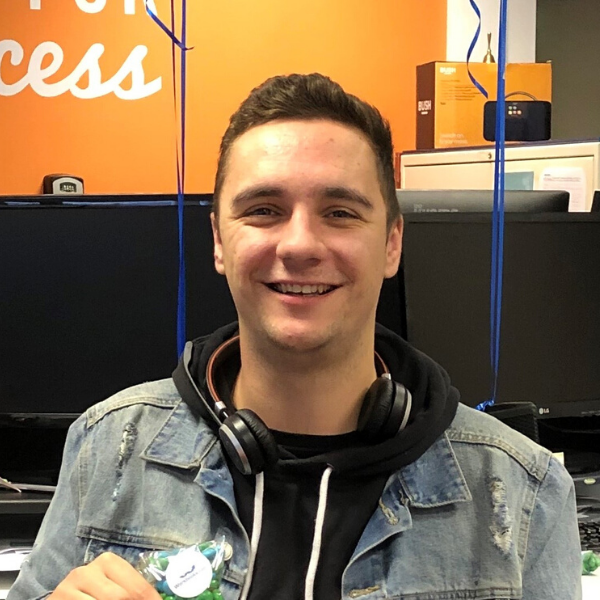 PHIL – BUSINESS DEVELOPMENT REPRESENTATIVE
At Workbooks we pride ourselves on being the friendly CRM company and Phil is no exception. Part of the sales team Phil is happiest chatting to new prospects and engaging with our current customers to make sure they're getting the most out of their CRM journey.
What is your current role at Workbooks?
Business Development Representative
How long have you been here? 
6 months
Tell us how your career path brought you to Workbooks?
The journey to Workbooks started at Buckinghamshire New University, where I studied Psychology & Criminology. After graduating, I worked in a couple of different roles, but aimed for a more vibrant and energetic working atmosphere. I was approached by Pareto law, to undergo their 3 stage sales assessment, with the aim of getting a sought after graduate role. I had to complete various interviews, presentations, and group exercises, and got selected as one of the top 20% of sales calibre across the UK, ultimately getting offered various roles. I chose Workbooks, as it ticked the boxes for me in terms of dynamics, energy and vibes. They made me feel like a name rather than a number.
How do you use CRM in your day-to-day working?
For pretty much every task. This ranges from opening it in the morning to check my activities for the day, to converting leads and logging communications from customers, with the aim of building relations.
What do you like most about working at Workbooks?
The dynamics of my team always makes for a fun and interesting working day.
What would be your best weekend activity?
Outdoor rock climbing
Which four individuals, living or dead, would you like to eat dinner with the most?
Frank Sinatra,
Freddie Mercury,
Snoop Dogg,
Jimi Hendrix
What piece of advice would you give to your younger self?
It's ok to be unsure about your purpose in life
Focus on one thing at a time. You can have it all, but not all at once.
What is your favorite flavor of cake?
Lemon Drizzle :D