K3 RETAIL USES WORKBOOKS AS A HELP DESK SOLUTION TO DRIVE CUSTOMER SATISFACTION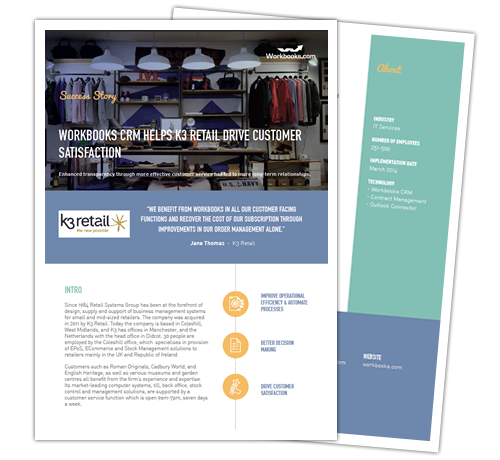 Since 1984 Retail Systems Group has been at the forefront of design, supply and support of business management systems for small and mid-sized retailers. The company was acquired in 2011 by K3 Retail. Today the company is based in Coleshill, West Midlands, and K3 has offices in Manchester, and the Netherlands with the head office in Didcot. 30 people are employed by the Coleshill office, which specialises in provision of EPoS, ECommerce and Stock Management solutions to retailers mainly in the UK and Republic of Ireland.
Customers such as Roman Originals, Cadbury World, and English Heritage, as well as various museums and garden centres all benefit from the firm's experience and expertise. Its market-leading computer systems, till, back office, stock control and management solutions, are supported by a customer service function which is open 9am-7pm, seven days a week.