TCMM SHUTTER GROUP LTD – CRM PIVOTAL TO ENABLING AN AGILE BUSINESS TRANSFORMATION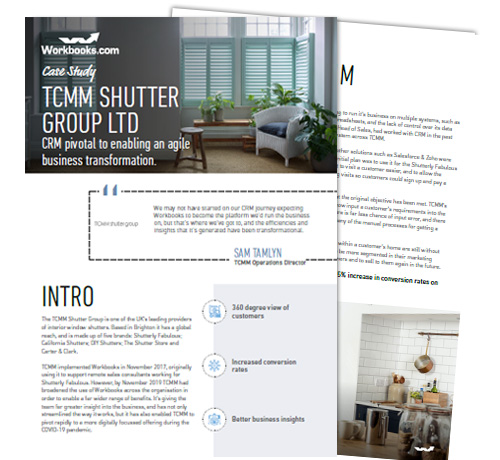 The TCMM Shutter Group is one of the leading providers of interior window shutters. It has a global reach, and is made up of five brands: Shutterly Fabulous; California Shutters; DIY Shutters; The Shutter Store and Carter & Clark.
Founded in 2002, by 2017 TCMM was trying to run it's business on multiple systems, such as OpenCRM & Kentico plus a multitude of spreadsheets, and the lack of control over its data was holding the firm back. Colin Williams, Head of Sales, had worked with CRM in the past and saw the opportunity to implement a system across TCMM.  The appointment of Workbooks CRM has resulted in revenue growth of $1.4m whilst the firm's headcount has remained the same.