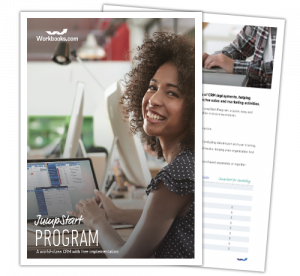 Jumpstart is a quick way to start getting value from using CRM. You will be allocated an on-boarding manager who will help you configure your Workbooks system, import your data, and provide training and guidance. All on-boarding will be done online including user training.
In addition, Workbooks will provide a day of system administration training, which will cover basic Workbooks configuration tasks, such as changing pick list values, screen layouts and basic reporting skills.
If you commit to a multi-year agreement, Workbooks will provide a credit against your on-boarding costs of up to 50% of your annual license fee for a 2-year contract and up to 100% for a 3-year contract. So in a nutshell, sign for a 3 year contract and your implementation is totally free of charge. What's not to like?