In the Blog post How to Skyrocket your Sales Team's Performance Using these 6 CRM reports - today! the focus was on reports to give real-time information to sales leaders in order for them to make informed business decisions regarding their team's performance. The information below describes how to create the fourth of those reports: Next Quarter's Pipeline against Target: How does your Pipeline look for next quarter?
4. Pipeline against Pipeline Target for next Quarter
In the report below you can see that Alison is the only person who has enough in her Pipeline as she has £9,650 above her pipeline target (112%). You can see that the overall Sales Target for the next quarter is £200,000k. If we know that we win on average 1 in every 3.8 deals (you can figure this out by looking at conversion rates), it means that we want our Pipeline for the next quarter to be 3.8 x bigger than the Sales Target, so our Pipeline Target is £760,000k. Taking Pipeline Target and subtracting what we actually have in the Pipeline (£536,300k) gives us a Pipeline Delta of £223,700k. It means that we need that much extra in our Pipeline in order to hit the Quarter Target. If you want to create this kind of report, information is available below.
Start by creating a report based on Opportunities. The only two columns that you need for this report are Assigned to name and Amount (home currency). Go to the Details tab, add those two and choose appropriate Titles.

If you wish to get results for specific period that you want to report in, add a report criterion on your Details tab. In this example, we've used a criterion to limit records to those due to close in the next fiscal quarter as shown in the screenshot below.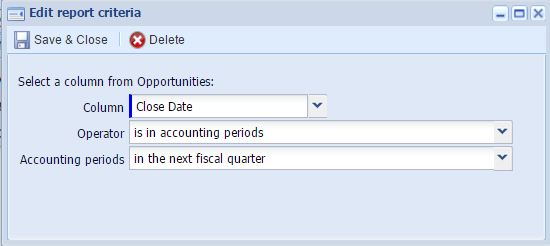 Add a Summary view based on your Details tab. Now you want to be able to see how much each Sales Rep has actually got in their Pipeline. Add a Subtotal column, select Amount (home currency) and group by Assigned to and choose appropriate Titles as shown below.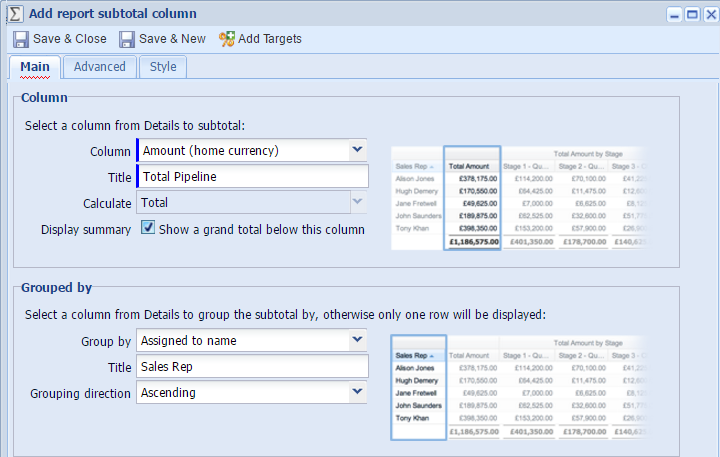 In order to see the Targets and Achieved columns, go to the Targets tab on the same Summarised column and select to show Actual, Target and Achieved columns as shown below. Add Targets for each Sales Rep which will result in the Achieved column being populated with the appropriate percentage automatically.
Now you want to be able to see the Pipeline Target against Quarter target. To achieve this add another Summarised column, type in Amount (home currency) in the field next to the Column and choose appropriate Title as shown below.
You've now got a report that shows not only how well your sales people are doing against individual Target, but also what their individual Target for the next quarter is. You also are able to see the Pipeline Target and how much you actually have in the Pipeline. It gives you an idea of how much extra you need in order to hit a Target.