In this example we want to reassign any Lead where the Rating Field is equal to Hot and the Leads are not already assigned to the Sales Leaders Queue. The Bulk Action will then run first thing on a Monday morning to reassign all Hot Sales Leads to the Sales Leaders Queue for them to follow up on.
Step 1 - Configure the Landing Page.
This Scheduled Bulk Action can be configured from the All Leads Landing Page, from Start > Sales > Sales Leads > All Leads you will need to apply the following filters:
Rating is Hot
Assigned to does not equal Sales Leaders

You may want to save this as a new view, but this is not required. Once this is complete select the Bulk Actions Button and then choose Reassign from the list of available Actions.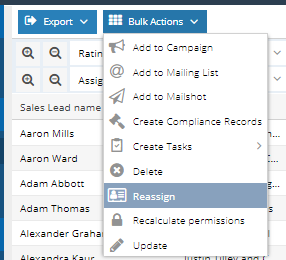 Step 2 - Setup the Scheduled Bulk Action
Before you can set up the Scheduled Bulk Action you will need to choose who you want to Reassign to the Record to, in this case it is the Sales Leaders Queue, then select the Run on a Schedule Button.

You will be asked to confirm if you want to set this up as a Scheduled Bulk Action rather than single Bulk Action. Select Yes and you will be taken to your newly created Scheduled Bulk Action.
You will then need to name your Scheduled Bulk Action as well as ensuring that the Schedule is set up in line with what is needed.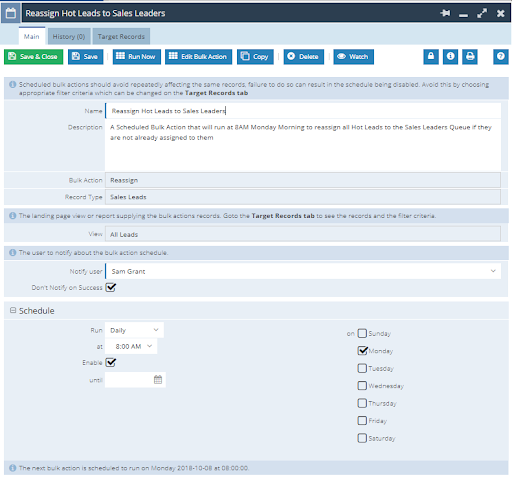 Once configured you can select Save & Close and this Scheduled Bulk Action will run in the background every Monday, only notifying you if an error is encountered.