INSIGHTS FROM THE INSIDE: HOW OUR BRAINS READ, SEE AND FEEL ABOUT THE LANDING PAGES AND EMAILS WE RECEIVE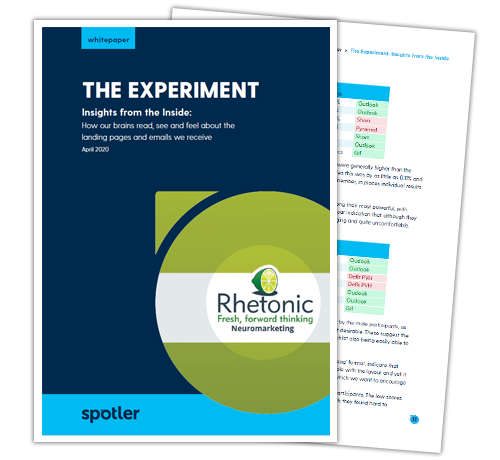 Our partner Spotler have known for years that small changes in email and web page design can make a dramatic difference to conversion rates. They've long been advocates of split-testing, and their AI tool has taken this into the realm of forecasting.
But now it is possible to go even further. They wanted to find out what was going on inside the brains of the people who received the various email formats and landing page layouts, to try to understand why some are more effective than others.
In this whitepaper, discover:
The 6 factors tested
Which of 9 different formats impacted the test audience most
How responses varied by age, gender, and workplace seniority
The best email layout
The most optimised landing page layout
Research carried out by Spotler and Rhetonic, aided by Spotler customers