5 Reasons why CRM projects fail in small and mid-size businesses
Implementing a CRM system for any sort of business is not without its challenges…
…but for small and mid-size companies without dedicated IT teams or budgets it can be even more difficult.
John Cheney, CEO of  Workbooks.com, a SaaS CRM provider which specialises in the SME market looks at five common mistakes SMEs make and offers advice on how these can be avoided.
 1. No Clarity on the Project Objectives
In order for any CRM project to be a success, there needs to be clarity on what success actually looks like.  We speak to many organisations who 'feel' they need a CRM system, but are not entirely sure what it could deliver and how it will benefit the business.
We encourage these organisations to really consider what they are trying to achieve by investing in a CRM project and how their business might be different in 6-12 months with a successfully deployed solution.
It is also important to recognise that different teams inside your business will have different and often competing priorities.  The sales team's number one priority might be more leads, whilst the customer services team might feel that a new support system is more important.
In order to clarify all of this we recommend you ask three questions of the business.
What are the high level objectives?
How would a system help me achieve these?
How important are these objectives relative to each other?
A simple table like the one below can add real value by allowing everyone to understand the issues and help prioritise accordingly.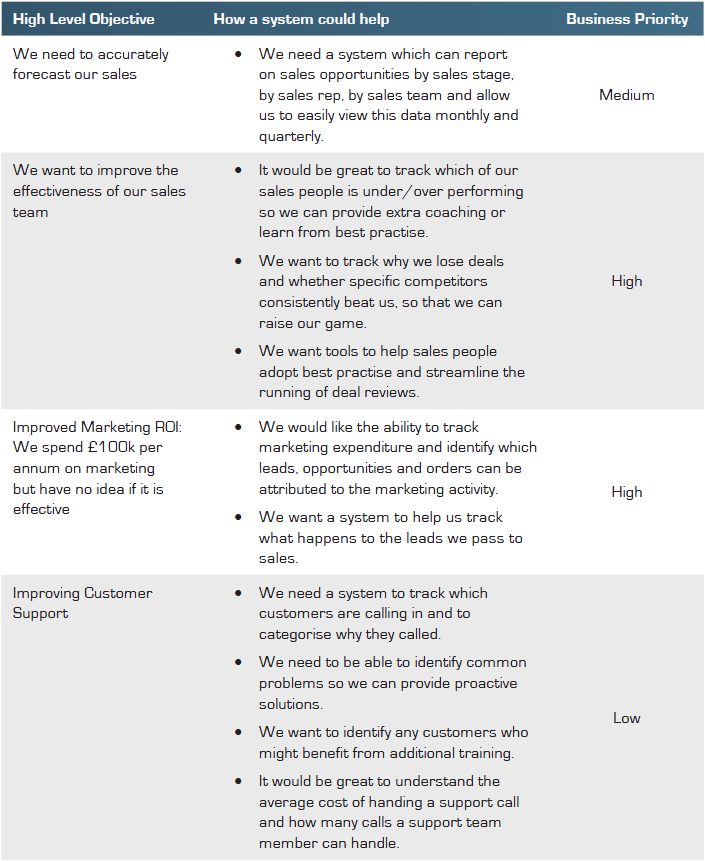 2. Lack of Executive Sponsorship
CRM projects cost time and money and may demand a change in working practices. This means that for any CRM project to be successful there must be the support from business leadership. By support we don't just mean a willingness to sign the cheque (although clearly that helps!).
Business leaders must:
Manage competing requirements and set clear business priorities.
Clearly define the management information requirements. If the CRM system is really going to improve the business, it will need to deliver good quality KPI's, so the right people can make the right decisions. If the leadership doesn't clearly define their requirements early on in the project , the CRM project is unlikely to deliver its promise.
Motivate others. In SME companies the company leadership tends to be intimately involved with the working of the company and the staff. If they don't see the CRM project as important, nobody else will.
3. Lack of User Involvement during Planning
Sometimes CRM initiatives are driven 'top down' with the business leadership keen to realise the value a good deployment can deliver.  (Which is great – see above). However, in the enthusiasm to get a system implemented, sometimes the people who actually use the system day to day don't get properly consulted.
Common pitfalls here include:
Management decide that 'knowing this piece of information would be useful', however the overhead of inputting the data means it takes people twice as long to do their job.
Users resent the 'new system' which is not what they are used to, and don't see the value it adds.
Users don't feel like stakeholders and can be resistant to change.
Unlike larger organisations which may have business analysts and business process experts, in small organisations it is often the only people who really understand an existing business process are the users who actually do the work.  Therefore its key to get users involved early in the project.
We would recommend establishing a project team right from the outset which includes managers and users.  We would also recommend you empower the users representatives to be 'project champions', tasked with explaining to their colleagues why the CRM project is being started, what value it delivers to the business and ensuring they get feedback on issues or concerns from their peers.
4. Recreating existing processes in a new system
CRM projects are started because the existing systems and processes don't deliver the desired result.  So implementing a new system (or software) which simply duplicates the existing processes is unlikely to improve things.  Implementing a new CRM system provides a great opportunity to review and improve underlying business processes.  Again user engagement here can be key. We often find that when asked, people running a particular process or function can identify ways to improve it; given the opportunity and the right support.
One of the challenges for SMEs is that most of the key processes such as order processing run across the organisation; starting in sales and marketing, progressing into an administration function, may involve a fulfilment team before finishing in finance.  Therefore it helps to identify which processes run within a department (such as sales forecasting) and which go across teams.  When a process runs across a business, it makes sense to get the stakeholders together to discuss how the process can be improved.  This doesn't need to be complex and a good CRM vendor will help you with this process.  The key piece of advice here is: Be open-minded to changing your process to fit the solution, rather than spending a lot of money on customising the solution to fit your existing process.
5. Choosing the Wrong Partner
The CRM software market is relatively mature, so whether you are considering using Workbooks or one of our competitors such as Salesforce.com or Microsoft Dynamics, you will find that most applications provide a rich set of features.
We would recommend you look beyond product functionality to see what else you might need to ensure your project delivers a return on your investment.
Is price the most important factor?
Do you need help with the design and implementation?
Do you need user training?
Do you need to migrate your data from a legacy system?
Once it's in place will you need on-going support?
One of the most important factors for an SME should be to understand how much focus and support you are likely to get from your CRM provider.  Will your business be important to them and will they go the extra mile to ensure you are successful?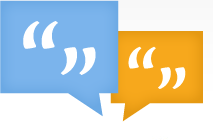 Carl Burman-MD Lucid IT Services
"Seeing Workbooks in use convinced us that it was the right way forward. We knew then that we needed to implement a new system and make use of Workbooks sales order processing capabilities to make our lives easier and to be more responsive to our customer".