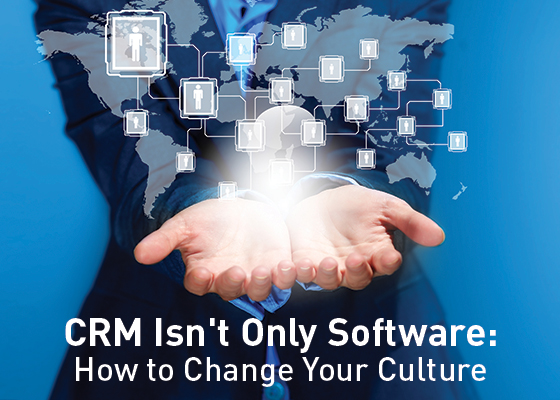 Customer Relationship Management (CRM) is often mistakenly thought of as an extension of the sales team's address book. Some more progressive organisations also use CRM software to manage customer service calls. But CRM is more than just software – it's an ethos.
"It's a behaviour called CRM, not a technology" – Mark Sauter, president and CEO, GTP Associates Inc.
CRM software "failure"
Many businesses, having implemented a CRM software solution immediately assume that their sales and efficiency levels will rise. They immediately set about business as usual, waiting to see what happens.
After a few weeks or months when the expected results fail to materialise, the software is dismissed as a failure and falls into disuse, or becomes an over-glorified address book. But because the business has simply implemented CRM software, rather than adopting a CRM ethos, they have missed the point of the exercise.
"The philosophy, 'If we build right it will sell itself' is not true." – Mark Sauter, president and CEO, GTP Associates Inc.
"Less than 50% of CRM projects fully meet expectations" – Answers to Five Frequently Asked Questions About CRM Projects – Bill Band, Principal Analyst at Forrester Research.
Getting CRM software implementation right – asking questions   
For a successful CRM software implementation, it is first essential to carefully analyse internal business processes by asking difficult questions:
How does each business process benefit your customers?
What is the overall organisational focus? Long-term customer retention or short-term profit?
How does each business unit regard customers? Are they the focus of all their efforts?
Are we ready for the new "social" business model?
And the toughest of all – what do we need to change?
Without asking these questions, you cannot undertake the next step of the CRM software implementation process.
"My goal is to suck the air out of my competition." But to do so it's necessary to unify the company under one CRM vision: "A prelude to failure is not building a CRM umbrella over every aspect of your business." – Peter Weedfald, vice president of strategic marketing and new media at Samsung Electronics America.
Getting CRM software implementation right – making changes  
After carefully analysing business processes, it is then essential to implement the changes identified. Failing to adapt business processes to meet customer needs will ensure that any CRM software implementation will fail. There are two key changes required:
Cultural change that places the customer at the centre of everything your business does.
Process changes that ensure business activities are undertaken with a focus on meeting customer needs.
Cultural change needs to be modeled first by senior management, and then adopted downwards throughout the organisation. This means:
Representing the client's needs internally.
Provide full training to ensure staff are using CRM software to its full potential.
Creating and enforcing operational policies designed to improve customer experience.
A commitment to continued improvement of processes.
"If executives aren't committed to the CRM project, don't expect middle managers to buy in. Likewise if the head of sales or service won't lead by example – and make employees work differently – don't expect CRM project success." Adam Honig, CRM consultant and strategist.
20% of CRM implementation problems are related to strategy and deployment – Forrester Research.
So remember:
CRM software helps underpin cultural change – it is not the agent of change.
Successful CRM means focusing on the client's needs.
Processes that do not focus on customer needs to be changed until they do.
Customer-centric policies need to be adopted and enforced.