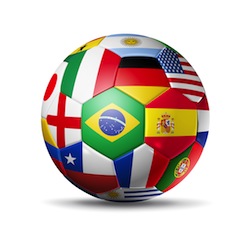 ENGLAND 0 – 1 CRM
This year's football world cup has certainly thrown up some shock results – defending champs Spain getting knocked out in the first few games, England failing to progress through the group stages for the first time since 1958, Greece getting through to the final 16 and the unbelievable Luis Suarez biting incident…..but what do all these have to do with choosing a CRM provider?
At the start of the tournament Spain were one of the favourites to win – so putting your money on them was perceived as a pretty strong bet. On the other hand, as one of the less-profiled footballing nations and up against strong competition, very few people had bet money on Greece making it through to the next round. Likewise, Uruguay's star player was the Premier League's Player of the Year, a reformed character on the up and now, remarkably after a 'live' catastrophic failure has come crashing down and his career hangs in the balance.
The key thread here is that you can't rely on perception alone. Whilst it may seem like a sure thing to bet on the big guys, size, profile and presence in the market don't guarantee a quality performance.
The same can be applied when selecting a CRM provider.
Whether you're looking to implement CRM for the first time or just looking to upgrade an existing solution, selecting the right partner that fits your business is paramount. Choosing the largest provider or the one with 'snazziest' branding does not mean that they will deliver the features and functionality that your business requires.
Our eBook, Taking the Plunge – making sure you get the right CRM partner, provides advice and guidance on the key questions you need to ask vendors when looking for a new solution. These include:
How well do they know and understand your business?

What experience do they have in your business sector?

Can they guarantee results?