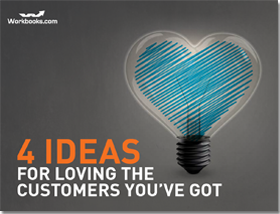 Many businesses are a bit obsessive when it comes to lead generation and new customer acquisition and have been known to neglect the customers they've already got. Once someone is a customer, a lot of companies think that it's OK to bog them down in internal processes, passing them from pillar to post when they ring. If you don't think that's true then maybe these statistics, courtesy of allthingscrm.com, will show you what we mean:
94% of marketing budgets are spent trying to get customers to call in response to campaigns. Only 6% is spent on handling the calls.
Business executives spend 15 minutes a day on hold.
When you went to all that trouble to get that customer in the first place, it seems a bit mad to then focus all your efforts on getting more new ones rather than developing the relationship you've already got. This is especially true when economic times are hard; as people want to do business with people they've already learned to trust and they don't want the hassle and expense of finding a new supplier.
Four ways to love the customers you've got
A recent survey by Gallup has revealed that in the B2B world only one in seven customer and supplier relationships are optimal and only 13% of customers feel fully engaged. When you consider that their research has also shown that a fully engaged customer delivers a 23% premium over average customers – in share of wallet, profitability, revenue and relationship growth – it's clear how valuable loyal customers are.
So, try these ideas to bring the love back to your customer relationships:
Idea 1 – Don't just obsess about product development – remember that customers feel an emotional connection to your brand. Use the data in your CRM systemto find out what business pains your customers are feeling. Hold round table events where you can discuss how you can help.
Idea 2 – Use the data you've gathered through social media comments about what's working and what's not. Then let the customers who made them know through targeted communications how you're responding to their issues.
Idea 3 – Make time to talk to your customers and don't let the only contact they have with your company be their calls to the customer service department. Use your CRM system to alert you to customers who have not had any interaction for a specified time then get your account managers on the phone to them.
Idea 4 – Invite them to take part in company case studies. This is a sure-fire way of finding out who's really happy and who's not and a really great way of getting closer to them.