By getting the right people on board from the start, you can make sure your CRM implementation isn't one of the 70% that fail.
The sad fact of CRM failure
Depending on the research you read, you'll come up with different statistics as to how often CRM implementation failure happens. But all the studies show that an alarming number of CRM projects fail:
A Butler Group report found that 70% of CRM implementations fail.

A Gartner study found that approximately 55% of all CRM projects failed to meet software customers' expectations.

In a Bain & Company survey of 451 senior executives, CRM ranked in the bottom three categories of 25 popular tools evaluated for customer satisfaction.
While there are a multitude of reasons cited for failure of these projects, user acceptance is one of the most critical factors.
Why CRM projects don't work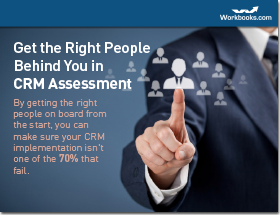 The reasons for project failure are often the same across different organisations:
Lack of training and support before and after implementation. Sometimes this is not because users don't receive training, but because it is not given in a way that resonates with them.

Incorrect, incomplete or bogus data. Marketing cannot run successful campaigns if customer and prospect information is inaccurate.

You chose the wrong system for your company, as you didn't get the right people involved at the right stage of the assessment.
Making CRM a success, or not
Too often, CRM projects fail as the solution isn't the right one for the people who use it most often. This article from CRM Magazine tells of two companies which got it right and got it wrong:
Got it right – had a CRM project manager in place from the start who created a team from the people who would benefit the most from the new solution.

Got it wrong – had the CIO solely in charge of assessment and purchase decision then rolled it out to the people who would use it.
Getting the right team in place
Who should be in your team? Typically, a CRM project team should include:
Project sponsor.

Senior stakeholders.

Supplier sponsor.

Project manager.

Business analyst.

Technical team leaders and members.

Communications manager.

Training manager.

User champions.
How often should they meet? Well, there's no hard and fast rule, but the project manager should have a defined timetable with milestones and goals in place that will influence this decision. At a minimum, though, the team should probably meet a couple of times a month.
What should be on the agenda? Progress, timescales, goals, objectives, issues, resolutions and communications.
How should the team share this information with others in the business to increase adoption at launch? Your project plan should include a communications element that covers pre-, at- and post-launch communications to share information and get company-wide buy-in. These communications can include e-shots, posters, newsletters and information days. User champions are also key in evangelising the solution within their teams in the run-up to launch.
Ensuring ongoing CRM success
By ensuring you have an assessment team in place at the start, you maximise the chances of your CRM project's success. Follow these 15 actions as well to achieve better CRM adoption and engagement, which include:
Building a case for change.

Communicating progress.

Supporting managers who are leading the change.

Providing educational resources.

Rewarding adopters.
Download the Get the Right People Behind You in Your CRM Assessment Uncategorised today