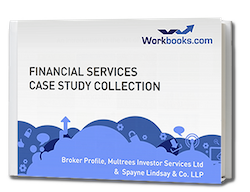 How web based CRM from Workbooks helped three financial services firms overcome specific business challenges to better meet customer expectations.
When it comes to financial services firms we understand that your business model is different to other types of organisations, with needs and requirements as individual as the services you provide.
In a challenging marketplace, you need the right tools – such as web based CRM – at your disposal to keep ahead of the competition and keep up with the expectations of your clients. Can you easily access all your client data from one central location? Do you have problems with duplicate data stored in multiple locations? Can you easily segment your data for marketing purposes or is this a time consuming, manual process?
By joining up sales, marketing and client services, businesses can enjoy one, consistent view of all their client engagement. Workbooks' web based CRM for Financial Services has been specifically designed to provide detailed client insight whilst also enabling firms to keep up with financial reporting standards and gain access to real-time management and business information through the Workbooks reporting engine.
With access to a breadth of real-time information and data, Workbooks users are able to make better business decisions, more quickly.
But, we would say that wouldn't we?
So we've created a case study collection with the help of three of our financial services customers to explain how the Workbooks solution has enabled them to overcome a range of business challenges and benefit from:
Anticipating the needs of clients.
Increasing client retention.
Streamlining reporting processes.
Gaining access to the audit tools needed to manage regulatory compliance.
 Case studies included are:



Download the Web Based CRM for Financial Services: Case Study Collection Uncategorised today