CRM Project - Where do you start?
Simple 3 step guide to kick-starting your CRM project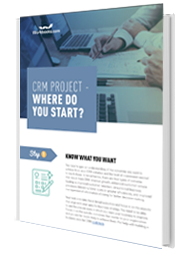 Paper length: 2 pages
Format: PDF
Understand the benefits of a CRM implementation but unsure where to start?
With planning, implementation, migration, training and technical scoping all needing to be addressed, it's all too easy to come face to face with information overload.
The more you research, often the more you uncover and more difficult it seems. Where are you supposed to begin!?
After implementing hundreds of CRM projects through the last 10 years, we've been able to distill our process into an easy-to-follow plan.
We've compiled our first three steps into a whitepaper to explain exactly what you need to consider and in what order.
Discover these first three steps in detail through completing the right side form.