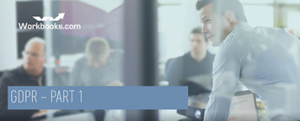 Our CEO and Head of Service Delivery, John Cheney and Penny Lowe, discuss how to best leverage CRM to address the rapidly approaching General Data Protection Regulation (GDPR).
In this webinar we cover:
How to leverage your investment in CRM to drive compliance
Lawful grounds for processing data – how to track and remain compliant
It won't come as a surprise that at Workbooks we are driving many of our processes using our CRM platform. This webinar series is about sharing our thinking and approach around GDPR and how to leverage CRM to make it easier to get compliant and remain compliant.
To watch Part 2 of the GDPR Webinar Series click here.
To watch Part 3 of the GDPR Webinar Series click here.