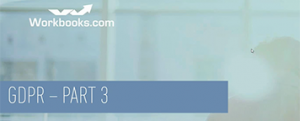 Our CEO and Head of Service Delivery, John Cheney and Penny Lowe, provide practical advice and guidance on email marketing, e-privacy and GDPR.
In this webinar series, we discuss what to consider to ensure your electronic marketing communication does not put you in breach of the regulation.
It won't come as a surprise that at Workbooks we are driving many of our processes using our CRM platform. This webinar series is about sharing our thinking and approach around GDPR and how to leverage CRM to make it easier to get compliant and remain compliant.
To watch Part 1 of the GDPR Webinar Series click here.
To watch Part 2 of the GDPR Webinar Series click here.
You're only one step away!
Simply complete the form to access the webinar.
Thank you for your interest in our resources.
You can now click the button below to watch the webinar.