Nearly everyone is generating digital content these days as part of their inbound marketing strategies. Some are becoming content machines – cranking out blogs, infographics, and newsletters at a whirlwind pace.
What often gets overlooked, though, is the type and the timing of the content that will most effectively guide your buyer's journey from the awareness stage to becoming a long-term, repeat customer.
Before producing the mix of content for your marketing plan, know your end goal and how much of each type you will need.
Are you aiming to raise general awareness about your brand?
Are you targeting prospects who are likely interested in your product or service?
Are you cultivating the relationship with someone who's ready to decide?
These are the three basic categories used to distinguish the types of content you produce, the kinds of audiences they're aimed at, and the channels used to promote them.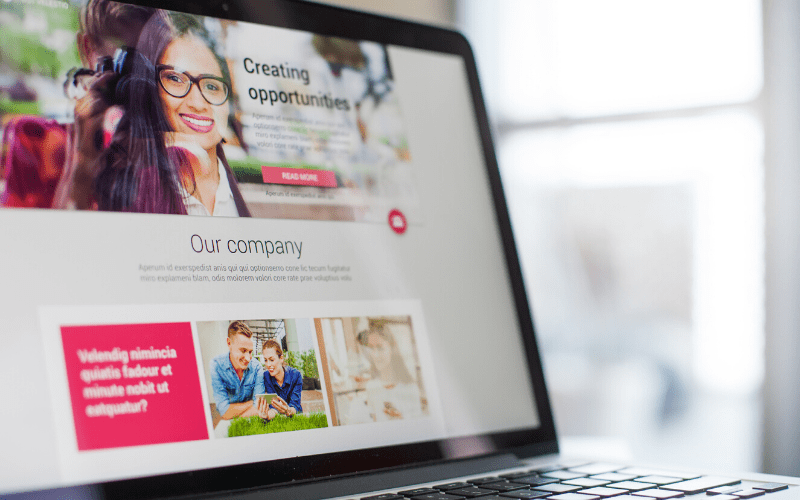 Traditional view of what to distribute, to whom, and at what stage
Whether you look at the basic model as a funnel or as a pyramid, the basic idea is the same.
Widest section is content that raises general awareness
First step in audience experience
For those at the Attraction stage, it's your 15 second ad.
Actual reach of target prospects is only a fraction of the audience
Middle section is for deeper educational content aimed at converting
For those at the Consideration stage
Differentiate from competitors
Establish your authority/mastery in your business niche
Narrowest section is content for nurturing converted leads and retaining customers
Suited for your leads who have either converted in some way (signed up/subscribed) or who have already purchased.
Continue impressing, informing and delighting with fresh ideas they can use.
Announce new products, recognitions, customer success stories they can relate to
Here's a view of the types of content used for each stage, as shown in the funnel model.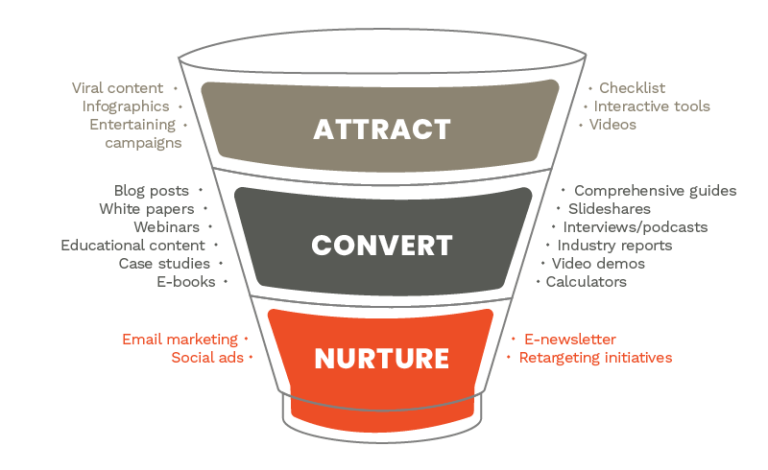 Image source: FRACTL
The traditional view has worked well enough since digital marketing took hold in the last decade, and it's still considered the standard model. But it doesn't always lend itself to a methodology that works today. Now, content needs to be more customer-engaged, timely, responsive, and shareable.
A more fluid model for mapping content, and a different way to look at the "Buyer's Journey"
Critics of the concept of the Buyer's Journey say that it leads to a truncated strategic vision in your marketing campaigns. Funnels or pyramids that terminate once someone makes their first purchase ignore the reality that, in terms of marketing spend, retaining customers is far more profitable than winning them in the first place.
Attracting new customers costs a company 5X more than keeping existing ones.
A 5% increase in customer retention can increase profitability by 75%.
Chance of selling to an existing customer is 60-70%, vs 5-20% for a new prospect.
A more strategic way of looking at the relationship with prospects, buyers, and repeat buyers is to call it the Buyer's Lifecycle, or even the Customer Experience Lifecycle.
Content designed for one stage can be used in another, ready to share at any touch point with a prospect, buyer, or brand loyalist.
Customer experience + prospect marketing = integrated experience
Consider all education and information you provide as experiences with your business
Cornerstone content can be parsed into smaller bites for consumption by prospects and customers alike. An infographic that's part of a larger white paper, for example, can be shared as a linked image on social media.
Know exactly what you've got, and exactly who you want to share it with.
Create an index of all of your existing and planned future content into categories from "light bites" to "deep dives."
Make sure you have enough of each type of content, and map it out to different stages of the lifecycle.
Identify any components that can be clipped and repurposed for different campaigns within the lifecycle.
You will have many more opportunities to target both prospects and existing customers with relevant, timely information.
When you see your content as serving the relationship as part of a lifecycle, rather than as a journey with a fixed beginning and end, you can break out of the old sales funnel mentality and aim your efforts at creating trust, brand loyalty, and other values that build ongoing relationships with customers, and higher sales per customer.
This blog was written by  Shannon Prager from LeadITMarketing, a fully outsourced marketing service business specialised in B2B technology and B2B professional services companies. Head to their website for even more great content and to see how they can help you get your marketing strategy on track.
From time to time guest contributors write on the Workbooks Blog – have something to say? Email Emma at emma.wright@workbooks.com