In this month's 'Customer in the spotlight' we look at how accountants and business advisers Shaw Gibbs began using Workbooks to gain intelligence on marketing and business development activity, and are now adding additional features and discovering more and more benefits for their business and their clients.
With a heritage stretching all the way back to the 1920s, Shaw Gibbs is a firm of accountants and business advisers with offices in Oxford and Marylebone, London.
Before implementing Workbooks leads, client wins and client losses were recorded on a number of spreadsheets. "We just weren't able to get intelligent data out of them," says Fran Kidd, Marketing and Business Development Manager. "Marketing for accounting is such a complex process that if you can drill down to the areas where you are having the most impact, you can really increase your return in marketing investment. We weren't able to get this out of our spreadsheets; we needed a CRM platform."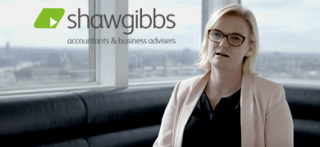 The team met three providers and chose Workbooks for three reasons. "One, the price was competitive," explains Kidd. "Two, there was good chemistry with the team. Three, the Workbooks platform integrates with CCH. That was a major selling point for us."
The implementation went smoothly, and Kidd reports she is now able to report to the Board on the detail of who is doing what, and the outcomes it is producing. Crucially this allows them to make informed decisions on where to focus resource for maximum impact.
More recently, Shaw Gibbs implemented the Workbooks web-to-lead tool. "This has been really beneficial says Kidd. "Customers fill in a web form and we're able to access that information remotely on our phones and progress the conversation."
With GDPR now well in place, Kidd implemented Gatormail and is now discovering that it does far more than ensure compliance with those regulations. Shaw Gibbs are automating more and more of their email marketing, making them more relevant and useful for their customers, and delivering greater returns to her firm.
That is not all, they are now looking into how they can use Workbooks to enhance and streamline the firm's work in areas like the customer onboarding process.
"It'll connect our proposal software into Workbooks, and so really simplify the onboarding process for both us and our clients. Then further down the line we're looking at linking to anti-money laundering software and letters of engagement. It's all about making the process as smooth as possible."
She concludes: "The customer service we receive from Workbooks has always been exemplary, and it's really useful to have the CCH link up, but more than anything else it's impressive to see CRM working so well. I've worked at three accountancy firms and this the only time I've seen a fee and time recording system properly interface with a CRM platform. It makes such a difference to our work."
To find out more on how CRM is helping Shaw Gibbs drive business success watch their Success Story.