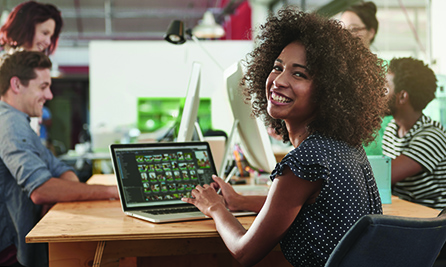 CRM software is a great way for managing all of your customers contact information and business interactions in one place.
Cloud-based CRM is more popular now than ever before, where data is hosted on the CRM company's servers rather than your own (on-premise). It is important to know which CRM option is best for your company. We will first look into what a web-based CRM is and then address the benefits of cloud-based CRM over on-premise.
So what is web-based CRM? Web-based CRM is a software solution where there is no hardware or software located on the customer's premises (on-premise). The software is hosted on a range of servers in data centres that are maintained and managed by a third party. The application is accessed through a web interface and not loaded on local PCs or Laptops. The service is charged on a monthly fee or annual rental based on the number of users using the system.
Most web-based CRM systems will offer significant cost savings over on-premise solutions, however not all providers offer the same functionality. It is important that the CRM solution you choose is equipped to your handle your specific business needs and can be adapted easily without costly consultancy or implementation fees.
Let's take a look at the benefits of web-based CRM:
It can be accessed from any device that can access the internet
An effective CRM system has to be implemented and adopted by all users, as the data contained within it is only as good as the information that is input by them.
Increasing sales teams are on the road or dispersed across the country and others may be working from home. This geographic freedom offers significant benefits to the business but is a concern as far as sharing information in a CRM solution.
Mobile or home-based workers would have to wait until they were either connected via a VPN or back in the office to update the database. This could take days and would therefore mean the database would be rarely up to date.
Removal of initial hardware requirements
Because the total solution is in-the-cloud there are no needs for hardware, or software licences. This is a massive saving on the cost of new equipment, installation, and support and is the main driver for opting for an on-line solution.
As an added benefit this eradicates the usual lengthy discussions between software supplier and hardware vendor and removes the support finger pointing that traditional on-premise solutions can be prone to.
No IT costs
Many small to medium businesses do not have a dedicated IT team. This role is often undertaken by the existing staff who may have limited IT skills and more important things to do. If a server-based solution was chosen then implementation and the ongoing maintenance may have to be outsourced which in turn adds significant cost and inconvenience.
Faster to implement
Because the on-line CRM solution needs no hardware/software, the time to implement and go live is much faster as there is no waiting for equipment to be delivered or a reseller to configure it. There will however, still be the same application configuration that is adapting the software solution to meet the needs of the business and import any existing data.
Fault tolerant without doubling the budget
CRM is a critical business solution and therefore needs to be available at all times. Under traditional server based solutions this would mean duplicating the hardware (and often software) in case the primary server fails. This increases the initial costs and in turn doubles the on-going maintenance costs and greatly impacts the overall cost of the implementation.
All costs are from operational expenditure – no capital outlay
As outlined above there are no requirements for hardware or software and as a result all of the expenditure is based on a yearly service charge. These charges can be assigned as operational costs and are not subject to depreciation. You will also benefit from not having to think about hardware upgrades.
Hardware and software upgrades are done in real-time
One of the worries of an on-premise solution is ensuring that the software is the latest version and that you continue to keep it upgraded. Once upgraded you could find that the hardware you purchased is now too slow and you would need to upgrade or replace that too.
Keeping your software up to date is especially important if you need to contact the software support team to resolve issues. With a web-based CRM solution it is all part of the service. The solution provider undertakes upgrades to both hardware and software without the need for your involvement and at no cost to you.
There are no concerns around which version you have it is always up to date and so any support issues can be more quickly resolved.
Backing up of data is done for you
As the data is the most important part of your CRM system, it is critical to regularly take back-ups. The frequency of these is in part dependant on the amount of new or changed information that takes place.
It is however good business practice for data to be backed up at least twice a week and perhaps even daily. With on-premise CRM, unless you invest in an automated solution, this can be a laborious task. Web-based solutions instigate back-ups automatically without user intervention and therefore the integrity of your data is ensured.
No need for on-going maintenance for hardware or software
If you opt for a web-based CRM solution the need for maintenance contracts are negated.
Licences are flexible so adding users is easy
As many of the users of a CRM system will be remote, it can sometimes become an arduous task to add new users using an on-premise solution. If the user is not IT literate it may mean that they would have to visit the office to have the software uploaded.
Using Workbooks web-based CRM solution, adding users is as easy as the administrator simply clicking add user which takes minutes. The new user can then log on to the system wherever they are as long as they have Internet access.
Users do not need to be on their own machines to access their data
In many on-premise CRM solutions there is a requirement to have client software loaded onto individual machines. This means that a user who may be on holiday cannot access their data unless they have their laptop with them.
With Workbooks CRM there are no requirements for a preloaded client and therefore a user can access data from any Internet connected machine.
Workbooks specific – additional functionality is easier to add
Workbooks CRM is a feature rich, web-based Customer Relationship Management system. It is user customisable to ensure that it works the way your business works. Many of the fields can be changed or new fields added – it offers a flexible and detailed reporting system, user defined views and an in-built dashboard facility. This is a powerful tool to manage your prospects, customers, marketing campaigns and support cases.
To extend the functionality of Workbooks CRM we have developed Workbooks Business, allowing you to create customer and supplier orders as well as invoicing from a quote generated within Workbooks CRM. This application shares data with Workbooks CRM and provides a more complete view of transactions from marketing through to successful sales.
Workbooks Business eliminates the need for data migration and costly configuration and can be implemented in a few days. Adding this functionality using PC based packages to existing CRM systems can take weeks of complex data manipulation. Workbooks Business is also a web-based application and reflects all of the benefits above.
Conclusion
It is clear that for most small to medium businesses, web-based CRM is by far the most cost effective solution, especially if you do not have experienced in-house IT support.
Nearly all web-based CRM solutions can handle contact management, lead management and sales management and that may meet your requirements – but once you have chosen your solution you are committed. Be sure you have all the flexibility and functions your business requires now and in the future it is an expensive exercise to change to a new system in 9-12 months, as it no longer meets your expanding needs.
Think about future areas of interest that could be expensive to add later:
True relationship management allowing people, organisations and activities to be associated with each other without strict contact/account rules
Email Marketing with full tracking capability
Web-to-lead integration
Contract management for contract renewals
Support management for handling support cases
Integrating accounting functionality to centralise data between applications
It should also be noted that there are some software configuration costs that will be similar if you choose either a web-based or on-premise CRM.
These costs are the time and effort it will take to:
Export and import current data into your new CRM system
Manipulate the fields and reports to reflect the way your business works
Train your staff how to use the new system
On-going adoption and increased functionality
Workbooks have over 20 man-years of delivering on-line software solutions and have extensive experience of using competitors CRM solutions. We understand the needs and the pains of running a small to medium sized business and wrote Workbooks CRM and Workbooks Business with you in mind.