25th May 2017, London UK: Workbooks Online Limited, the UK-based leading CRM vendor, announces its integration to MagneticOne Mobile, enabling customers to enter data from business cards into Workbooks in just two clicks. The integration is available now on the Google Play Store.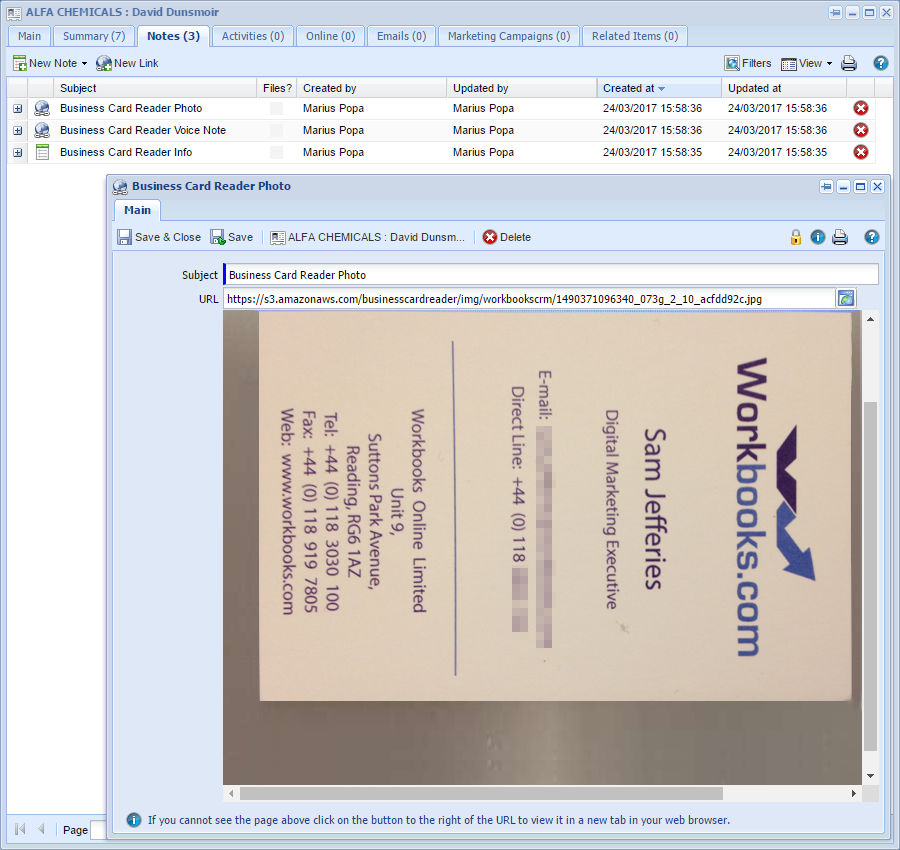 How does it work?
Users take a photo of a business card, which gets 'scanned' by the application to pull its data including name, department, company, address, phone number and social network profiles etc. The data is then reviewed to confirm or edit. Once confirmed, the data is then automatically pushed into Workbooks as either a Sales Lead or a Person.
On top of the business card data, you can also upload a recorded voice note into Workbooks (for example a note on where you met the person and the background of the engagement). Once imported, three notes are automatically created against the Person/Sales Lead record: the actual picture of the business card, the Voice note and any Additional information (e.g. timestamp, Google Play User).
Features
– Ability to recognise business cards from card images saved earlier
– 25 languages supported; Multilingual card recognition supported
– Automatically add a country phone code when the code is missing
– Fast recognition process (improved recognition speed for UltraHD business cards' photos)
– Precise conversion of business card data (using the technology of intellectual OCR)
– Preview results and make necessary changes before saving
– Add text and voice notes for each business card
– Navigate to contact address on map
– Encrypted recognition server connection for maximum data security
The application complies with laws and privacy legislations. This is a 'must have' for busy marketers  who need to process business cards from trade shows and conferences, as well as sales people who meet customers day-in day-out. This application considerably reduces the time it takes to import and process data into CRM and ensure that the data is accurate and complete.
Further questions & integration set-up
If you're interested in proceeding with an integration, please visit the Google Play Store or Contact Us.
About MagneticOne Mobile
MagneticOne Mobile, headquartered in Ternopil (Ukraine) is a software development company specialising in the development of mobile applications. MagneticOne Mobile is part of the MagneticOne group who provide a number of ECommerce solutions for effective store management, SEO, marketing automation and comparison shopping engines. Products include Cart2Cart, CMS2CMS, API2Cart and Data2CRM. For more information on MagneticOne Mobile, visit their official website.
About Workbooks
Workbooks delivers cloud-based CRM and Marketing Automation applications to the mid-market, at an affordable price. Workbooks extends beyond sales, marketing and customer support to include order management and fulfilment, invoicing and supplier management, at a price which is typically 50-70% less than solutions such as Salesforce or Microsoft Dynamics.
Workbooks joins up the entire organisation around data and processes, promoting teamwork and collaboration. It provides a single 360 view of customers and the information is accessible anytime, anywhere. Productivity is increased, operations are streamlined, insightful decisions are made and the business is better equipped to differentiate against the competition.
PR Contact:
Christelle Fraysse
CMO
christelle.fraysse@workbooks.com
+44 (0)118 3030100