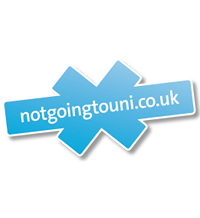 Licence costs drop by 50% and retention rates rise when employment website implements Workbooks.com for its online CRM needs
Not Going To Uni (NGTU) is the UK's leading website dedicated to helping school and college leavers make informed decisions about their future.
For the past four years the company has used the Salesforce CRM to maintain contact with its advertising clients. However, a number of business changes, including acquisition and the decision to replace its QuickBooks accounting package with Sage 50, prompted the company to reevaluate the Salesforce product.
Offering a 50% saving over the Salesforce enterprise license NGTU had been using, Workbooks' online CRM system was a compelling solution. As part of the project, the Workbooks team also merged three databases into one to support the expanded business, migrated 20,000 contacts and 10,000 records, as well as the finance information from the old system.
Using Workbooks, NGTU can efficiently and effectively:
Track both customer communications and on-going opportunities which is helping to balance the daily workload.

Focus activities on what needs to be closed this month and what needs to be set up for the following month to ensure a steady flow of opportunities.
Other key benefits include:
Increasing the quality and timeliness of management information.

Removing the risk of duplicated effort, overlap or miscommunication with customers and prospects.

Closely monitoring the time between order close and invoice generation because of the integration with Salesforce and Workbooks.
With a high conversion of existing leads and renewal rates running at around 85%, NGTU is set for continued expansion. Craig Abrahart, Managing Director at NGTU, says "The decision to move from Salesforce to Workbooks was undoubtedly the right one for notgoingtouni.com. Not only has the subscription cost reduced by 50% but with Workbooks we have a system – and a supplier – that can really help the business to move forward and push those retention rates even higher, up to 90% or beyond."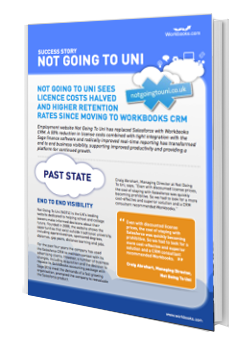 Click HERE to read the full NGTU case study and find out how an online CRM system from Workbooks can assist your business.