Ranking Based on 1,000+ in-depth reviews and user ratings
Reading, England, (13th January 2016) Workbooks.com is pleased to announce that Workbooks CRM has been named a Top Rated CRM platform for a second year in a row by software users on TrustRadius, the most trusted peer review site for business software.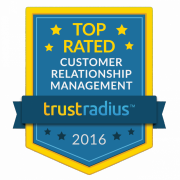 John Cheney, CEO, Workbooks.com commented:
"We are pleased to be named a top rated platform in the Small Business CRM Software TrustMap for a second year in a row! Workbooks CRM is again recognised to be delivering a quality, robust cloud service to customers and one that leads against other CRM vendors where we are often radically more cost effective. We have delivered a consistently high availability to customers since inception and continue to be chosen over big name brands for our quality of service, breadth of function and affordability.
Our consistent winning of awards across the globe helps validate to customers that we are the right choice to shortlist when comparing CRM systems and we are proud that our customers score our support and their likelihood to renew and recommend so highly.
Megan Headley, Research Director at TrustRadius adds:
Workbooks is highly rated among its small business users, who particularly like the usability and customizability of the product, as well as the affordable price.
To read Workbooks reviews on TrustRadius, visit this page.
Additionally you can download a free copy of TrustRadius Buyer's Guide to CRM Software here: https://www.trustradius.com/crm. The guide is based on authenticated insights from real software offers and provides practical guidance to help you find the best CRM software for your situation.
About Workbooks
Workbooks delivers award-winning CRM and business applications to the mid-market, at an affordable price and with functionality that transforms business.
Unlike traditional CRM solutions, Workbooks.com extends beyond sales, marketing and customer support to include order management, order fulfilment, invoicing and supplier management. This business functionality is delivered out-of-the-box at a price that is typically 50-70% less than enterprise solutions such as Salesforce, Microsoft Dynamics and NetSuite.
For more information, visit www.workbooks.com.
The TrustMap is a visual depiction of the best software products as rated by users on TrustRadius within each market segment. TrustRadius does not endorse any vendor, product, or service depicted in its TrustMaps and does not advise software users to select only those vendors with the highest ratings.