The company was identified among 20 other software companies in the leading review guide for growing businesses
Reading, UK, 25th August 2020 –Digital.com, a leading independent review website for business online tools, products, and services, has named Workbooks to its list of best customer relationship management software (CRM) of 2020.
The top 20 companies were selected based on customisation options, automation tools, and integration.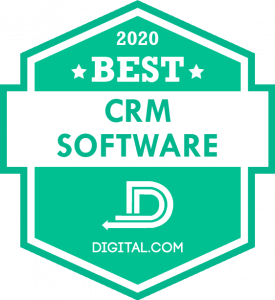 A good CRM software can help organisations in a number of ways. It can increase the productivity and success of sales, marketing or customer service departments. It can improve customer satisfaction and retention, improve organisational efficiency and provide highly accurate data for better decision making.
Digital.com's research team conducted a 40-hour assessment of over 190 CRM software companies. To access the complete list of best CRM software, please visit  https://digital.com/crm-software/.
ABOUT WORKBOOKS
Workbooks offers growing companies a SaaS platform to run their business and engage effectively with their customers – at an affordable price. Its core CRM services extend beyond sales, marketing and customer services to include powerful marketing automation, event management, order management and fulfilment, invoicing and supplier management functionalities.
Workbooks unites the entire organisation around data and processes, promoting teamwork and collaboration. It provides a single 360-degree view of customers and the information is accessible at all customer touchpoints. It provides a single 360 view of customers and the information is accessible anytime, anywhere. Productivity is increased, operations are streamlined, insightful decisions are made and the business is better equipped to differentiate against the competition.
For more information, visit www.workbooks.com.