Workbooks Warriors (our dragon boat team) finished first in the Sport Relief Thames Dragon Boat race last Friday. It was not the most pleasant of afternoons to be messing about on the river but it was all in a good cause to raise money for Sport Relief.

Ten teams from the Thames Valley Business Park took to the water to race three heats. The rain came and even the spectators who gathered to cheer on their teams, were as wet as those taking part. The teams were made up of local businesses, including Oracle, Baxter Storey, Workbooks and many others. Workbooks started the race as the underdog but was soon seen as the front runner after their second heat landed a 1min 38sec time, nearly 5 seconds ahead of their closest rival.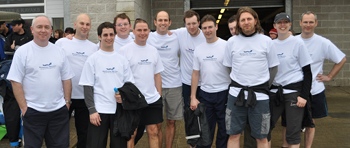 Despite the rain getting heavier, all of the teams agreed to stay on and continue the event through to the final. And what a close race it was. Oracle's team (called "A Complete Shambles") was determined to take home the trophy.
Despite their best efforts (and beating Workbooks Warriors' previous best time) they could only manage second place, three seconds behind a blistering time set by Workbooks of 1min 32 seconds.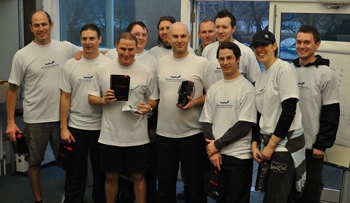 Workbooks was later presented with the trophy and confirmed that we would be back next year to defend it!
All in all the event raised over £1500 for Sport Relief and although the sun stayed away a great time was had by everyone. We proposed that next year we would donate the 'Workbooks Warriors Trophy' for the fastest time set. Bring on the competition!!!!