ALIGNING SALES AND MARKETING PART 1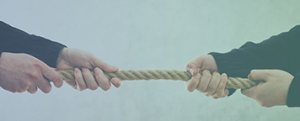 Ask someone who has never worked in a sales or marketing department whether or not the two functions tend to be closely aligned, and they will almost certainly tell you that they are and should be. Ask anyone who has ever worked in a sales or marketing department, however, and they will tell a very different story.
Salespeople and marketers both aim to increase revenue but they take different approaches to it, sometimes use different languages, and measure success in different ways. The end result, unless companies actively seek to align the two functions, is a major disconnect with negative effects on the business.
Watch this webinar to discover how to build the foundations for sales and marketing alignment. John Cheney, CEO of Workbooks, demonstrates how with time, effort and commitment across the organisation and the right processes and technology in place you can get there and drive business success.