SECUREWEST – A CRM IMPLEMENTATION THAT DELIVERED ROI FAST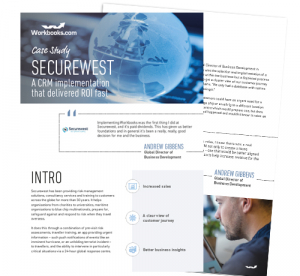 Securewest provides risk management solutions, consultancy services and training to organizations from charities to universities, maritime organizations to blue chip multinationals.  It helps them to prepare and safeguard against and respond to risk when they travel overseas.
Securewest were planning to accelerate the growth of the business but their existing processes and solutions were not fit for purpose.  Andrew Gibbens joined as Global Director of Business Development in September 2019 and after a rapid but rigorous selection process chose Workbooks CRM. The flexibility and agility of Workbooks has teams working together and sales have risen by 12 -15% in just a year.